Senator Imee Marcos had called for global price cap on COVID-19 vaccines.
Senator Imelda "Imee" Marcos on Sunday had called for the implementation of global price cap on COVID-19 vaccines.
This, despite that the Department of Trade and Industry (DTI) admitted that implementing price ceiling on COVID-19 vaccines would be difficult to negotiate.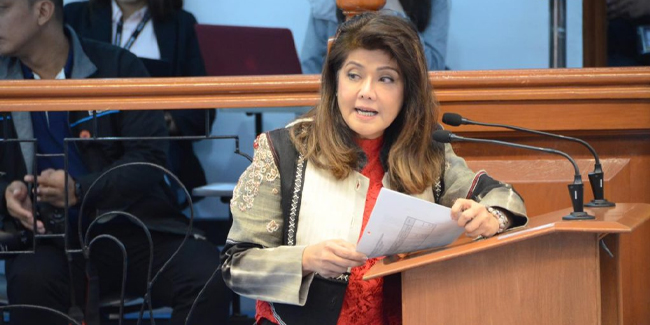 The senator said that the Association of Southeast Asian Nations (ASEAN) should use its clout to prod world leaders to arrive with a global price cap for COVID-19 vaccines.
Marcos, who was the chairperson of the Senate committee on economic affairs, said that less developed countries remained at the mercy of global pharmaceutical companies that hold patents and dictated the prices of COVID-19 vaccines.
Therefore, Imee said, it was imperative that world leaders must agree to put a price cap on COVID-19 vaccine – even a waiver on patents for COVID-19 vaccines – in order to ensure that less developed nations could gain access to immunization against the coronvirus disease.
Imee also said that the ASEAN should use its influence in order to start a new way of doing business in the manufacture, pricing, patenting, and distribution of vaccines for coronavirus disease and future pandemics.
READ ALSO: Implementing Price Cap On COVID Vaccines 'Difficult', says DTI
She added that a World Trade Organization (WTO) agreement —the Trade-Related Aspects of Intellectual Property Rights (TRIPS) — could be invoked to moderate vaccine patents during a global public health emergency.
"Let's hope the race to come up with a vaccine is guided mainly by the concern to save as many lives rather than to make as much profit as possible," she said.
For more news and updates, you may feel free to visit this site more often. You may also visit Newspapers.ph via the official Facebook page and YouTube channel.