Viral Post of Medical School Student Whose Graduation Is On Pause Due to COVID-19 Pandemic
MEDICAL SCHOOL STUDENT – A post of a student of Mindanao State University featuring the sacrifices of his parents went viral on social media.
The Philippines is one of the countries affected by the COVID-19 pandemic which put almost everything on pause. Currently, the whole country is under a community quarantine.
Classes in schools have yet to open now and social gatherings are still prohibited. There are still threats of the virus and we must not be complacent to prevent the 2nd wave from happening.
VISIT: Arroyo Reacts To Duterte Admin's Performance on COVID-19 Fight
Undeniably, the impacts of COVID-19 is frustrating. It claimed thousands of lives and put many dreams on pause.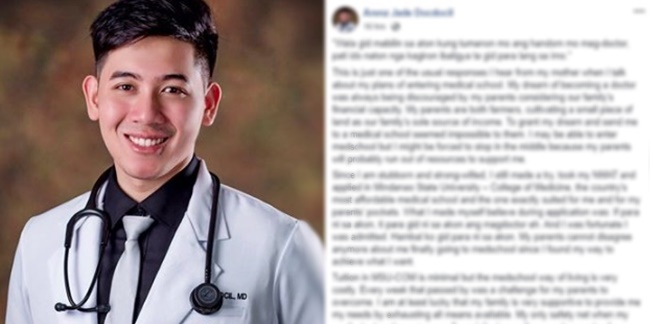 Recently, on social media, a post of a medical school student who is about to graduate went viral. He featured the sacrifices of his parents and his much-awaited day which may not come now because of the COVID-19 pandemic.
According to Arenz Jade Docdocil, it is really his dream to become a doctor despite of their status in life. His parents are both farmers cultivating a small piece of land for the family's needs.
Arenz's parents discouraged him to pursue his dream to enroll in a medical school because of their situation. On the other side, he is really strong-willed and he took the NMAT test and applied in Mindanao State University – College of Medicine.
According to him, the MSC-COM is the school that suits him considering their financial situation. Despite their initial discouragement, his parents supported his studies.
The medical school student stated that his father worked a lot in the field to provide some money to send to him. His mother also did not have her surgery for adenomyosis so she can send money to him.
Arenz stated that he cannot imagine all the sacrifices of his parents just to support him in his dreams. He really looks forward to his graduation this year so his parents can reap their labors but COVID-19 pandemic happened.
In his viral post, the medical school student admitted that he is sad that the day he is looking forward to is "postponed indefinitely". His parents have already prepared their barong and Filipiniana for his graduation.
Arenz ended his post expressing his gratitude to his parents and to all who helped him achieve his dream. Here is the viral Facebook post that brought inspiration to a lot of people:
READ ALSO: Poor Man Offers Driving Services In Exchange of Rice & Groceries But Only 1 Person Respond