ICP Described Mixing Alcohol & Bleach as Disinfectant Solution "Dangerous"
The Integrated Chemists of the Philippines (ICP) said that mixing alcohol and bleach as a disinfectant solution is dangerous.
Earlier this week, the video footage of a man instructing viewers to mix alcohol and bleach to create a disinfectant solution spread like wildfire online after it was posted on social media.
In the video, it can be seen that the man is mixing Tanduay, Zonrox, and hand sanitizer. The guy is claiming that the mixture could be used as a disinfectant solution since supermarkets are already running out of alcohol supply.
However, the Integrated Chemists of the Philippines posted a warning on their Facebook page stating that the mixture is a deadly combination because it creates a harmful substance called "chloroform".
ICP explained that "Chloroform" is a hazardous and poisonous substance that can cause harm to users when applied to the skin and inhaled. The agency also said in their post "Huwag Tularan Nakamamatay".
Here is the full post of ICP:
The social media users expressed their reactions to the post: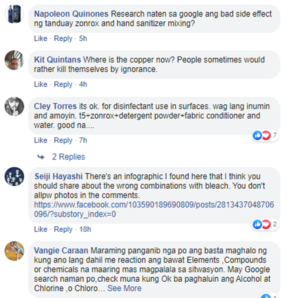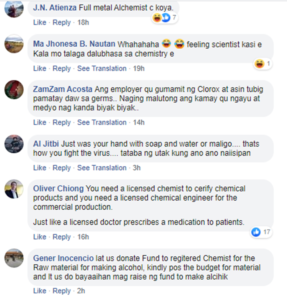 What can you say about the statement of ICP regarding the mixture? Just leave your comments and suggestions for this article.