Here's what you need to know about GGives Sakto Loan eligibility.
GGIVES SAKTO LOAN ELIGIBILITY – This article will teach you on how to become eligible for GCash's beginner-friendly loan.
GGives Sakto Loan is a beginner-friendly loan offered by GCash where you can use it to directly pay online, physical and GLife stores for any purchase/s.
Your eligibility for this loan may change from time to time and you may also be upgraded to a regular GGives offer. But how can you become eligible for this beginner-friendly loan?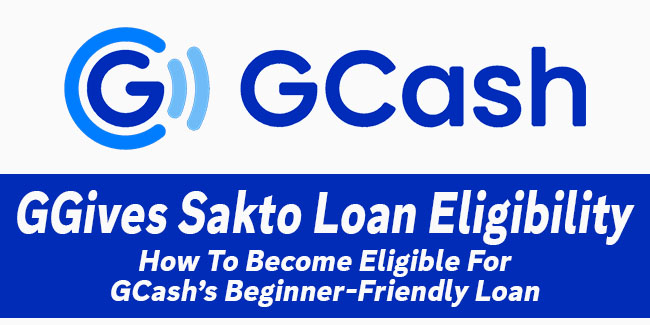 Here's how to become eligible for this beginner-friendly loan:
If you want to be eligible for this loan, you need to be 21-65 years old, be a Filipino citizen, be a Fully Verified GCash profile, have a good credit record, and maintain a good GScore, Aside from this, you can be eligible for this loan if you didn't commit any fraudulent transactions.
There are also reasons why this loan is not available to you.
It could be because you don't meet the minimum eligibility requirements of GGives, your app is not updated to its latest version, you already qualify for the regular GGives offer, or you already have an existing GGives loan from other GCash accounts under your name.
Paying with GGives Sakto Loan
You can buy product or services using GGives Sakto loan via Offline Pay – Merchant QR, Offline Pay – Personal QR, via GLife, or via online.
You may keep using this loan as a payment method as long as you have an available credit limit and available loan count. If you have maxed out either your loan count limit or your credit limit, you may pay off or close an existing GGives Sakto loan account to pay with GGives Sakto loans again.
Keep in mind that when choosing to pay with this loan, you need to make sure to take note of your maximum credit limit, your required minimum spend, and your loan count limit (if any).
Thank you for visiting Newspapers.ph. You may express your reactions or thoughts in the comments section. Also, you may follow us on Facebook as well.