Billiard hall where Efren "Bata" Reyes is playing, raided by police
EFREN "BATA" REYES – Authorities raided a billiard hall in Santo Tomas, Batangas wherein the Filipino pool legend was playing.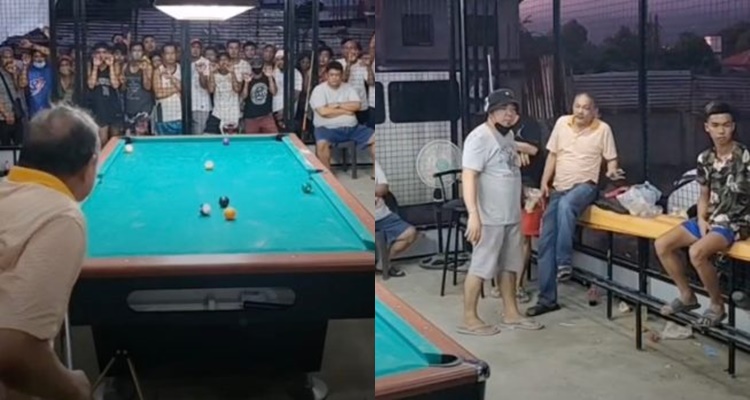 Efren "Bata" Reyes aka "The Magician" is a professional pool player.
Reyes, a winner of over 100 international titles, was the first player to win the WPA World Championships in two different pool disciplines.
Reyes is a WPA World Nine-ball champion and WPA World Eight-ball Champion, a U.S. Open winner, a two-time World Pool League winner, and a thirteen-time Derby City Classic winner.
Many analysts, fans, and players consider Reyes to be the greatest pool player of all time.
The billiard legend is making a buzz online after the authorities raided the billiard hall wherein he was playing.
Read Also: Efren "Bata" Reyes Speaks up After Police Raided Billiard Hall Where He's Playing
In a video posted by a netizen named Resty Teng, the police can be heard in the background telling the people present at the said hall, "dapa".
The billiard game between Efren "Bata" Reyes and Charlie "Lapuk" Rasco took place in Santo Tomas, Batangas.
Reyes can be seen in the video being surrounded by probably his friends, telling him to sit down on one side.
He can be seen in a calm demeanor. Apparently, the video was cut.
This is not the first time that a game of the billiard legend was raided by the authorities.
Last March 2021, Reyes was "arrested" for allegedly playing billiards without a permit from the LGU.
The authorities then denied that they arrested Reyes and only reprimanded him and later sent him home.
Meanwhile, some netizens gave reaction to the latest incident involving the Filipino pool champ.
"Yan lng kaya mga walang padrino.. at ung small time.. tagal na may bilyar sa pilipinas hindi naman hinuhuli… Nagutom ata ang mga buwaya," said Christopher Mendoza.
"Dami pwedeng hulihin eh hahahaha talo siguro amo hahhaaha," Daryl Torres commented.
What can you say about this report? Share your thoughts or insights in the comment section below.
For more news and the latest updates, feel free to visit Newspapers.ph more often as well as our Facebook page and YouTube channel.