What Is "Delikado" In English? (Answers)
DELIKADO IN ENGLISH – There are several Filipino words that don't have a direct translation in English, that's why we need context in order to fully translate them.
This article will teach you about the English translation of the word "delikado" based on the context of the sentence.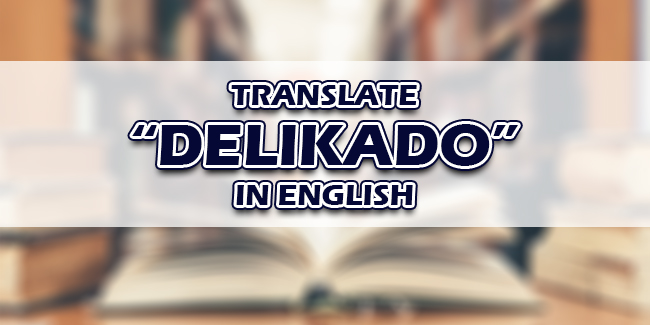 What is "delikado"?
"Delikado" is a Tagalog term that refers to being able or likely to cause harm or injury. It also refers to being able or likely to cause problems or to have adverse consequences.
What is "delikado" in English?
"Delikado" can be directly translated as "dangerous". The use of this word, however, may depend on the context of the sentence.
Here are some example sentences:
Delikado ang mga regalo mula sa hindi mo kilala.
Alam ni Bob na delikado ang paglalaro ng matutulis na bagay.
Delikadong ilantad ang iyong sanggol sa malakas na sikat ng araw.
Hindi dapat pumunta si Carlo sa ganitong delikadong lugar.
In English, these sentences could be translated as:
Gifts from someone you didn't know is dangerous.
Bob knows that it's dangerous to play with sharp objects.
It's dangerous to expose your baby to strong sunlight.
Carlo shouldn't have gone to such a dangerous place.
Thank you for visiting Newspapers.ph. You may express your reactions or thoughts in the comments section. Also, you may follow us on Facebook.
For other Tagalog-English translations, visit HERE.