BSP and COMELEC signed an escrow deal for the safekeeping of the 2022 election source codes.
BSP and COMELEC — On Monday, officials of the Bangko Sentral ng Pilipinas and the Commission on Elections signed an agreement for the safekeeping of the automatic election system (AES) source codes which will be used for the 2022 elections.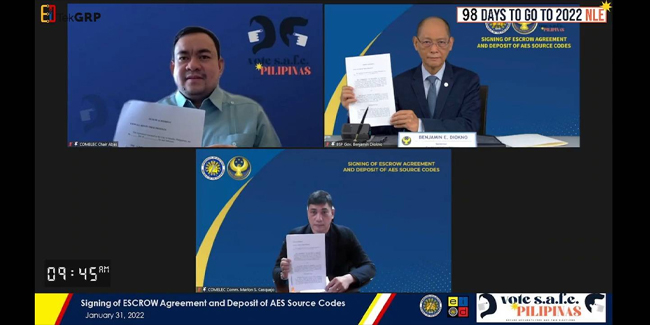 At a virtual event, COMELEC Chairman Sheriff Abas and Commissioner Marlon Casquejo explained that the escrow agreement was vital in ensuring the security and safety of the election system.
Casquejo, in his opening remarks, said that the escrow agreement will ensure that the source codes which will be used for the AES (automated election system) will be secured with the "highest possible level of security".
According to Casquejo, source codes were the instructions or commands conveyed in a software program in a manner that's understandable to the computer and those source codes underwent trusted builds in order to ensure its accuracy, integrity, and reliability.
Last January 13, the poll body had conducted a 2nd trusted build in order to correct issues in 2 software components of the AES found during the mock elections last December 2021.
Once certified, Casquejo said that those source codes were deposited and kept in the central bank for safekeeping until the day of elections.
"With the BSP and the Comelec working hand in hand, it is without a doubt that the credibility and security of the 2022 national and local elections are maintained and will never be compromised," Casquejo said.
Casquejo said that the schedule of the actual turnover of the AES source codes to the central bank was yet to be determined, but it will be open for media coverage subject to BSP's security protocols.
READ ALSO: 'ComeLeaks Version 2?' Bayan Muna Alarmed by Hacking of Comelec Servers
BSP Governor Benjamin Diokno, for his part, assured the public that the AES source codes will be kept in a vault with a multi-security system.
According to the BSP chief, the central bank guaranteed that the vault assigned to the poll body was secured by a series of metal locks and combination codes.
Diokno added that the keys to the metal locks, as well as the combination codes, were under the sole custody of COMELEC officials in order to ensure that the source codes "will not be tampered by anyone and will remain unaltered, thus, preserving the legitimacy of the elections."
Since 2010, Diokno said that the central bank has been partnering with the poll body for the safekeeping of the source codes as mandated by Republic Act 9369.
Abas and Diokno were the principal signatories of the escrow agreement.
For more news and updates, you may feel free to visit this site more often. You may also visit Newspapers.ph via our official Facebook page and YouTube channel.