Here Are Examples Of Unitary Songs In Tagalog
WHAT ARE UNITARY SONGS – There are several examples of unitary songs, even in Tagalog. But, what exactly are unitary songs?
In this article, we are going to tackle the definition of what a unitary song is. Furthermore, we are also going to discuss the importance of unitary songs.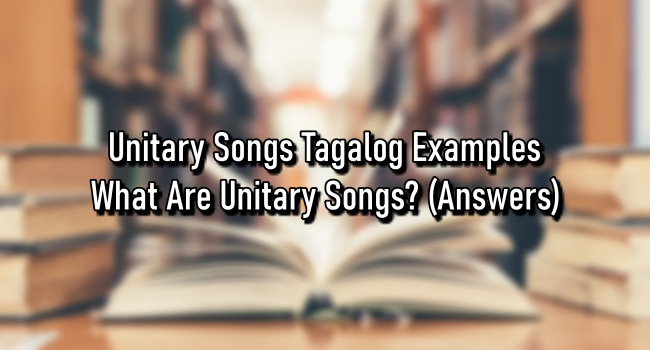 A unitary song is a type of song which has the same melody throughout the entirety of the song. This type of music has become so popular that it can be found in may genres of music including:
ballads
carols
hymns
children songs
Here are some example of Unitary Songs:
Silent Night
While Shepherds Watched Their Flocks At Night
O Susanna
God Rest ye Merry Gentlemen
Old MacDonald
Marry Had a Little Lamb
Additionally, we can also see these types of unitary songs in Tagalog. Here are some examples:
Bahay Kubo
Leron Leron Sinta
Ako Ay May Lobo
Sitsiritsit Alibangbang
Paruparong Bukid
O' Ilaw
WHY ARE UNITARY SONGS IMPORTANT?
Unitary songs are important because they are a part of our culture and tradition. In the Philippines, these types of songs are called "Dalit".
The songs are easily passed on from generation to generation because it is easy to memorize thanks to its repetitive melody and rhythm. These native songs, poems, and children's rhymes mirror the events of our past and even our present. As such, it's important to keep these alive for future generations.
Thanks for reading. We aim to provide our readers with the freshest and most in-demand content. Come back next time for the latest news here on Newspapers.ph.
READ ALSO: Kahalagahan Ng Bibliograpiya – Kahulugan At Iba Pang Halimbawa Nito