Here are the NAPOLCOM Exam Result July-August 2021 1st Class (Superintendent Passers)
This is the NAPOLCOM Exam Result July-August 2021 1st Class (Superintendent Passers) as released by the National Police Commission (NAPOLCOM).
The examination results including the list of passers, top 20 examinees, and other announcements related to this will be available on this website as soon as the NAPOLCOM will officially release the results.
NAPOLCOM held the licensure examination at testing centers in Makati, San Fernando (La Union), Tuguegarao, Angeles (Pampanga), Cabuyao, Calapan, Iloilo, Cebu, Tacloban, Calbayog, Pagadian, Zamboanga, Cagayan de Oro, Davao, Koronadal, Baguio, Butuan, and Cotabato, and in the provinces of Batanes, Cavite, Quezon, Albay, Kalinga and Tawi-Tawi.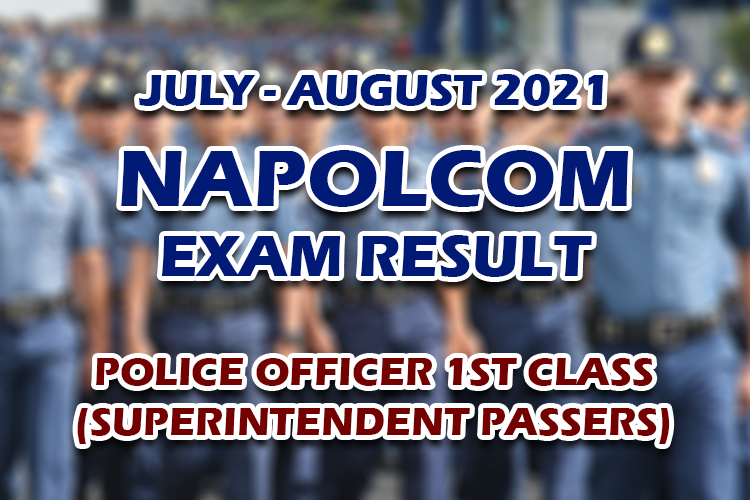 NAPOLCOM Vice Chairman and Executive Officer (VCEO) Vitaliano N. Aguirre II headed the conduct of the NAPOLCOM examination.
SUMMARY OF RESULTS
LIST OF PASSERS
In a press statement, NAPOLCOM said that only 825 out of 3,122 passed the promotional exams. Of which, 17 are passers of the Police Officer 1st Class Examination.
Here is the List of 1st Class (Superintendent Passers):
21-08-0100002, AGUILAR, MARK ARCHIE MELAYO
21-08-1100001, BIRUNG, GERALD BUCAYU
21-08-1200001, CABAHUG, JARON RUMULUS PAGHASIAN
21-08-1200003, CAPADOSA, KENT JEREK FLORES
21-08-0100001, CARIO, RICHARD GARCIA
21-08-1300001, COLANGAN, JOHN PAUL PANGANGAAN
21-08-0100007, DAQUIAL, ANDRESS IV TANGAN
21-08-1300006, HUMIWAT, HARRISON PA-AC
21-08-0300001, LOPEZ, ROMUALDO SISON
21-08-0500004, MORATALLA, JOENEL CENTENA
21-08-1100004, OY-OYAN, LANNON LATAWAN
21-08-1300005, PAGUIRIGAN, BOB STEPHEN LACHAONA
21-08-0100003, PANINGBATAN, JIMMY PABILONIA
21-08-0100005, ROXAS, MANUEL ASILO
21-08-1900001, SUETOS, ETHELL MAR MAGUDDAYAO
21-08-1500003, VIAJAR, CHRISTOPHER JOHN QUINTANA
21-08-0100004, WANDAS, JETRONE UBUAN
EXAM COVERAGE
PNP Entrance Exam Topics
General Information (Philippine Constitution and history, Philippine law and history, criminal justice systems, current events, social awareness, and value judgment)
Verbal Reasoning (Vocabulary, comprehension, grammar, the basic concepts and problem-solving skills of quantitative reasoning)
Verbal and Non-verbal Logical Reasoning
Promotional Exam Topics
General Information
Police Administration
Police Operations
Values and Ethical Standards
RELEASE DATE
The target release date of the NAPOLCOM Exam Result July-August 2021 will be approximately two (2) months after the last day of examinations or by September-October 2021.
REMINDER
The exam result may be released by the NAPOLCOM earlier or later than the target date without prior notice.