6 Members of the Family of Hopia Legaspi Positive for COVID-19
HOPIA LEGASPI – Six (6) of the family of former Goin Bulilit star Trina Legaspi tested positive for COVID-19. She posted updates.
The COVID-19 pandemic remains to be the biggest challenge that the Philippines is facing now. This disease has placed a lot of lives at risk and has even taken the lives of many people.
The severity may be different. There are patients who are asymptomatic or showing no signs of sickness at all while there are those who have mild symptoms. Sadly, some patients got severe cases.
Amid the fight against the COVID-19 pandemic, there are cases wherein several members of the family contract the disease. One of them is the Legaspi family – the family of former Goin Bulilit star Trina Legaspi or more commonly known as Hopia Legaspi.
Recently, on her Instagram Stories, Hopia Legaspi shared a screenshot of her family members who are fighting against COVID-19. In her post, she stated that they got brand new lungs.
In another Instagram post, Hopia stated that her parents are among those who are sick with COVID-19 in their family. They got admitted to the hospital for five (5) days already and the actress is the one attending to their needs while they are being treated.
The siblings of Hopia Legaspi also developed pneumonia but they are under home care treatment. She is asking for prayers for her family.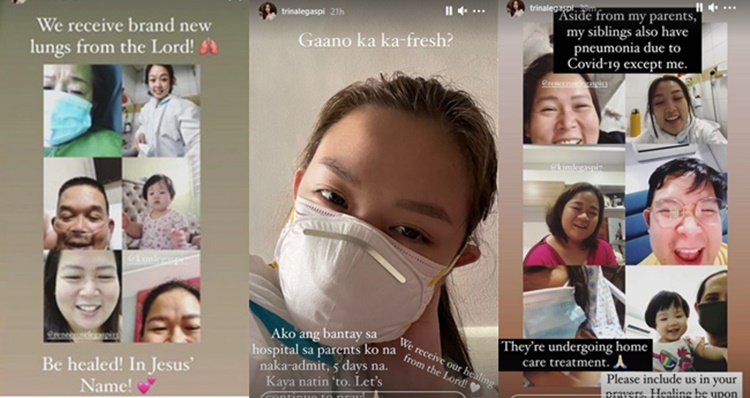 Many people are battling against COVID-19 now. The pandemic required an intensified fight following the emergence of new variants of the virus. The Philippines is one of those that recorded cases of the Delta variant.
First recorded in India, the Delta variant caught attention for its higher transmissibility rate. The national government previously placed the whole Metro Manila under Enhanced Community Quarantine (ECQ) to prevent the spread of the virus. Currently, the capital region is under granular lockdowns.
You may also visit: Medical Frontliner Tests Positive for COVID-19, Four Times