Pacquiao-led PDP-Laban ousted President Duterte as party chairman.
On Sunday, the national council of the Pacquiao-led Partido Demokratiko Pilipino-Lakas ng Bayan (PDP-Laban) ousted President Rodrigo Duterte as party chairman after electing a new set of officers.
Also, PDP-Laban officially elected Senator Manny Pacquiao as the party president and Senator Aquilino "Koko" Pimentel III has replaced President Duterte, who has thrown support for the other faction led by Energy Sec. Alfonso Cusi.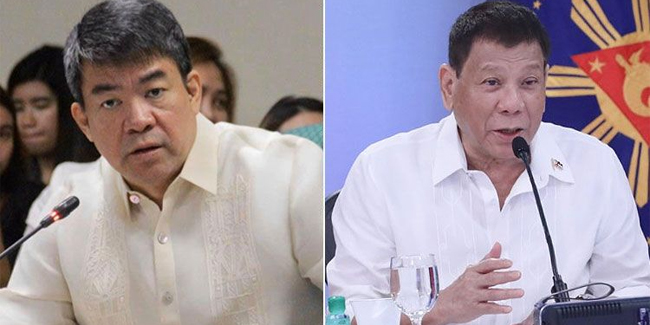 Last December 2020, some PDP-Laban members had questioned the apparent appointment of Senator Pacquiao to the post, prompting the creation of the Cusi-led faction.
According to Pacquiao-led PDP-Laban executive director Ron Munsayac, the virtual meeting was attended by the "old guard" and community members of the party. Senator Pacquiao was also present in the said meeting while on his flight to Manila from the United States.
Other elected officers include the following: former Senate secretary Lutgardo Barbo as vice chairman and House Deputy Speaker Arnie Teves as secretary-general.
Meanwhile, Cusi-led PDP-Laban secretary-general Melvin Matibag called the Pimentel camp's election of new officers a "comedy".
On Sunday, Matibag said in a statement that Senator Pimentel has no position in the party because he's "irrelevant" and "does not represent the party". Matibag also said that Pimentel's group were "pretenders and attention seekers".
"President Rodrigo Roa Duterte is the PDP-Laban party chairman. He remains to be so and will continue to be so," Matibag said.
READ ALSO | President Duterte: "Things are clear now, I will run as vice president"
Last July, the Pimentel wing submitted its required Sworn Information Update Statement (SIUS) to the Commission on Elections (Comelec), which then recognized President Duterte as party chairman.
The Cusi faction submitted its own version of the SIUS last August with its new set of officers led by President Duterte as party chairman and Cusi as party president.
Although the deadline for submission of the SIUS has passed, Munsayac said that their camp will try to submit an addendum containing the Pimentel camp's new set of officers. It's up to the Comelec to settle the issue over party legitimacy.
For more news and updates, you may feel free to visit this site more often. You may also visit Newspapers.ph via our official Facebook page and YouTube channel.