BIR addressed the tax issues on financial rewards and incentives for Hidilyn Diaz.
On Thursday, the Bureau of Internal Revenue (BIR) addressed the tax issues on financial rewards and incentives for Olympic gold medalist Hidilyn Diaz.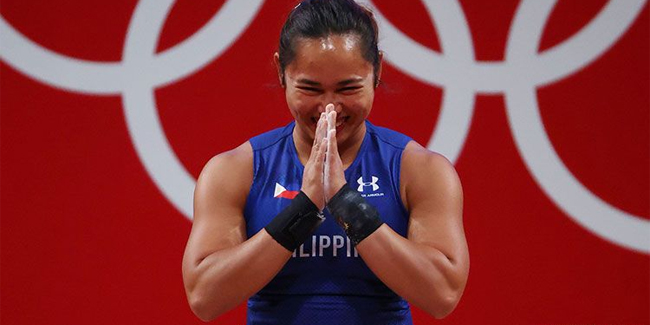 According to the BIR, the cash prize from the national government will not be taxed. Also, the BIR said that Diaz may not need to pay taxes on donations given to her by private individuals, businesses, and entities — provided that the donor's tax had already been paid.
"In times when a fellow Filipino represents the Philippines and wins in the international arena, the BIR always gets asked on the taxability of their prizes—be it a medal, a crown, or cash," the BIR said in a statement.
READ ALSO: President Duterte Pledges To Give Hidilyn Diaz Fully Furnished Zamboanga House, PHP 3 Million
Ending the Philippines' 97-year Olympic gold medal drought, Diaz had secured PHP 10 million cash incentive as mandated under Republic Act No. 10699. The said reward, according to the BIR, will not be taxed.
Given Diaz's rare feat, gifts from local businesses have flooded the athlete as well — from cash incentives to house and lot, amounting to more than PHP 50 million.
"The donations given to her by businesses, private individuals, and entities shall also be excluded from the computation of her gross income under Section 32(B)(3) of the Tax Code. The latter, however, presupposes that the generous donors have already paid the donor's tax on these items," said the BIR.
READ ALSO | Orocan to Other Brands on Rewards of Hidilyn Diaz: 'WAG NA TAYONG MAGPLASTIKAN'
According to the BIR, the Tax Reform Acceleration and Inclusion (TRAIN) Law lowered the donor's tax rate to 6% in excess of PHP 250,000.
"Otherwise, the maximum donor's tax would be ₱1,004,000 + 15% in excess of ₱10million," the BIR said.
GoNegosyo founder Joey Concepcion said in an interview with CNN Philippines earlier this week that Diaz will live a "comfortable" life as he saw up to PHP 100 million incentives from different brands.
Diaz was also expected to witness "a long list of commercial endorsements" as well.
For more news and updates, you may feel free to visit this site more often. You may also visit Newspapers.ph via our official Facebook page and YouTube channel.