DITO Telecommunity will be "more aggressive" starting late 2021.
DITO Telecommunity said that the Philippine market should expect a "more aggressive" telco player by the latter part of the year, challenging the dominance of Globe Telecom and PLDT in the mobile space.
This, as the third telco player already hit almost a million subscribers despite the coronavirus lockdowns.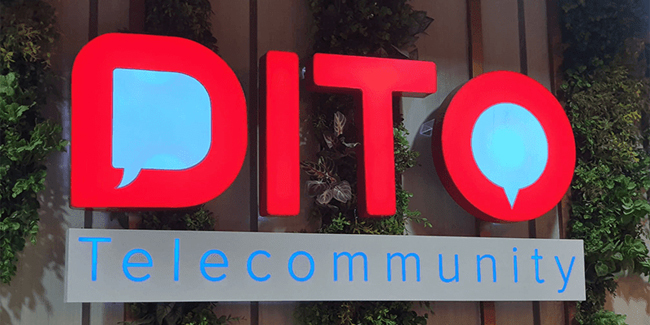 "Later this year, you'll see us more aggressive…," DITO Chief Technology Officer Rodolfo Santiago said in a virtual briefing on Friday. Santiago also reiterated the third telco player's goal of cornering 30% of the market.
Currently, DITO Telecommunity already had some 3,000 towers across the country as it geared up for its July technical audit when it needed to meet the committed 51% coverage and average internet speed of 55Mbps for its second year of operations.
"By end of June, we will approximate about 150 total cities and municipalities," Santiago said.
Expanding its coverage also translated to increasing its subscribers, with DITO Chief Administrative Officer Adel Tamano saying that the third telco player was "very close" to hitting one million subscribers.
READ ALSO: DITO Telecommunity Aims To Reach Millions Of Subscribers By End Of Year 2021
DITO Brand and Marketing Director Jasper Evangelista was bullish the group backed by state-run China Telecommunications and Davao's Dennis Uy can achieve the figure "soon".
Also, Tamano stressed anew that the mobile number portability would "change the game" as the MNP will allow Filipinos to keep their mobile number even if they switched to a different service provider.
Meanwhile, DITO Telecommunity was set to commercially launch its services in 23 more areas on Independence Day on June 12, 2021.
For more news and updates, you may feel free to visit this site more often. You may also visit Newspapers.ph via our official Facebook page and YouTube channel.