Random Facts About The Capital Of The Philippines
CAPITAL OF THE PHILIPINES – What do people think of when they hear about the Philippines?
Most would think about the country's pristine white sand beaches, nice locals, and an overall tropical paradise. However, you don't really get that in Manila. But, what you will get in this article is some random and interesting facts about Manila, the country's Capital.
Today, the government seems obsessed with China, with key officials calling the country the "Philippines's BFF". But, did you know that the Philippines actually has the world's oldest Chinatown located in Manila?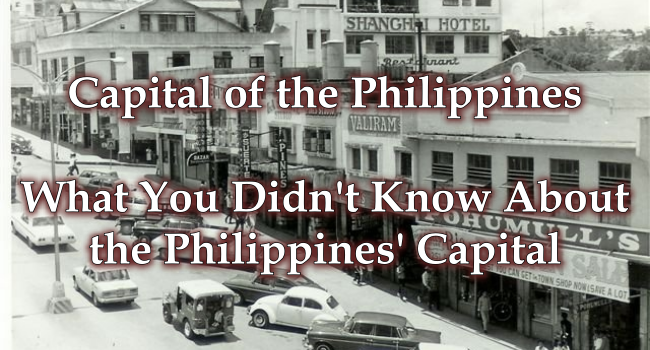 In Binondo, you could see the oldest Chinatown established way back in the 1950s. But, this settlement wasn't even built by the Chinese. Back then, it was actually the Spaniards who created the first Chinatown as a settlement for the Catholic Chinese.
The British Invaded And Controlled Manila For 2 Years
Aside from the Spanish, Japanese, and Americans, the British also wanted a piece of the Philippines. But, the King's men only managed to hold their post for around 2 years.
Still, within that time period, they managed to bring with them Indian soldiers known as "sepoys". However, when the Brits left the Philippines, many of these sepoys decided to stay. Afterward, most of these Indian soldiers settled in Cainta bringing with them delicacies such as "Bibinka" and "kare-kare" and Karihan (from the word curry).
Rizal literally gave-up on the Philippines at some point
The country's national hero at a point in his life, thought that there was no hope for the Philippines. As such, he wanted to start a new settlement called "New Calamba" In Borneo.
There was only 1 Filipino Casualty During the 1st World War.
According to an article from Spot.ph, Tomas Claudio Boulevard in Malate was named after the only Pinoy who died in World War I. Originally, Claudio was from Morong, Rizal. However, after he was caught sleeping during his job, he transferred to the U.S. where he enlisted for the army.
Manila City Hall is shaped like a coffin
When viewed from above, Manila's City Hall looks like a coffin with a cross on it. But, it was never intended to be like that. Instead, Manila City Hall was supposed to be shaped like a shield of the Knights Templar.
READ ALSO: What Is The Postal Code Of Philippines? List of Philippine Postal Codes