UK COVID-19 variant was "more deadly", according to British Prime Minister Boris Johnson
British Prime Minister Boris Johnson on Friday said that the UK COVID-19 variant that had swept Britain and beyond in recent months could be "more deadly" and more transmissible as well.
The sobering news came as the United Kingdom sought record deaths from COVID-19, following an increase in coronavirus cases and hospitalizations since the UK COVID-19 variant was first identified in southeast England last September.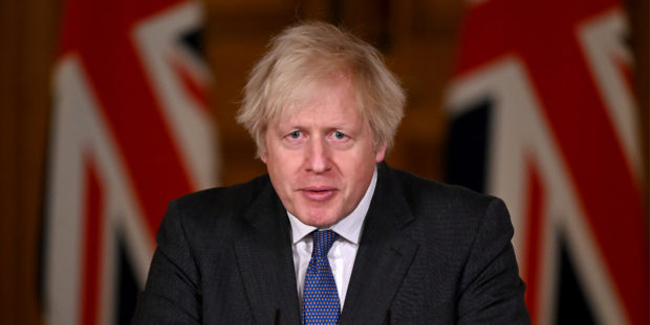 The coronavirus strain had also spread to over 60 nations — including China, wherein the coronavirus pandemic started over a year ago — according to the World Health Organization (WHO).
At a news conference, Johnson said that it also appeared that there was some evidence that the new COVID-19 variant may be associated with a higher degree of mortality.
Johnson then blamed the UK COVID-19 variant for the grim situation engulfing Britain, wherein another 1,401 deaths were announced on Friday, taking the overall toll to 95,981.
Coronavirus deaths had increased to 16% over the past week, while the number of individuals who were hospitalized with COVID-19 was approaching double the number of individuals seen during the worst days of the first wave of the coronavirus pandemic in April 2020.
READ ALSO: DOH, PGC Confirm Detection Of UK COVID-19 Variant In PH
According to chief government scientist Patrick Vallance, the new COVID-19 variant could be "30-40 percent more deadly" for some age groups, although he stressed that the assessment relied on sparse data.
Flanking Johnson in Downing Street, Vallance said that there's a lot of uncertainty around the numbers and they need more work in order to get a precise handle on it, but it obviously was of concern.
"You will see that across the different age groups as well, a similar sort of relative increase in the risk," Vallance added.
However, Mike Ryan — the executive director of the WHO's health emergencies program — said that it had not yet seen any evidence that the COVID-19 variant was more lethal.
"What we are seeing is that if you infect more people, more people will get very sick, and if more people get very sick more people will die," he said.
For more news and updates, you may feel free to visit this site more often. You may also visit Newspapers.ph via official Facebook page and YouTube channel.