Prince Haji Azim, Son of Sultan of Brunei, Died at 38
SULTAN OF BRUNEI – Prince Haji Abdul Azim, son of Brunei's Sultan Haji Hassanal Bolkiah, died at the age of 38 years old.
Brunei is one of the countries with absolute monarchy as the type of government. Under this political system, the head of the state and the head of a the government is a sultan.
The position may be passed on by the sultan from generation to generation. Currently, the head of the country is Sultan Haji Hassanal Bolkiah.
Recently, a sad report about the son of Sultan Bolkiah who is supposedly one of the heirs of his throne passed away.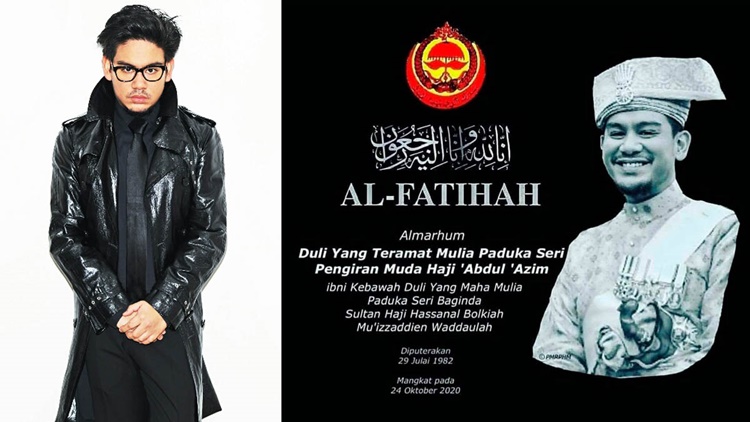 Based on Radio Television Brunei, seven days of mourning will be held for the passing of Prince Haji Abdul Azim. The 38-year-old Prince is the second son of Sultan of Brunei Haji Bolkiah.
Prince Azim is the eldest of the Sultan with his second wife. He is a film producer and a philanthropist. He was buried the same day of his death following the Islam tradition.
There are no reports from his family about his cause of death but other reports state that the Price died after a long battle against a disease. The exact health condition of the heir of the Sultan of Brunei was not mentioned though.
The remains of the Prince were laid beside his grandfather's, Sultan Omar Ali Saifuddein, in the Royal Mausoleum in Bandar Seri Begawan.
During the 7 days of mourning in Brunei, the national flag is on a half-mast. The female Muslims must wear a white headscarf while the non-Muslims must wear a white armband with three inches width.
More updates may be posted soon. Thank you for visiting Newspapers.ph.
READ ALSO: Japan Imposes Entry Ban On 111 Countries And Regions, Including PH