Negros Occidental recorded 1,386 new COVID-19 cases in two weeks.
Negros Occidental had recorded 1,386 new coronavirus cases in the past two weeks, according to the Department of Health (DOH) data that was being analyzed by the ABS-CBN Investigative and Research Group (IRG).
This, as 7 out of 10 of the new COVID-19 cases in Negros Occidental were from Bacolod City, which had 952 new COVID-19 cases from August 13 to 27. The total of 1,386 cases was a 137% increase from the week before.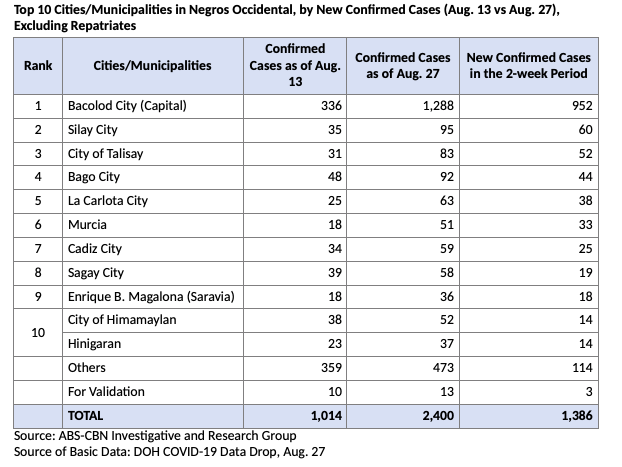 It's also higher than Cebu province's 1,183 new COVID-19 cases during the same period.
Cebu had previously used to be called an "emerging hotspot" for COVID-19 in Visayas. But instead of Cebu, Negros Occidental was in the list of the Department of Health's top provinces by newly-announced COVID-19 cases for three days this week.
However, according to ABS-CBN Investigative and Research Group, Cebu still topped all provinces, logging 18,692 confirmed COVID-19 cases as of August 27 in terms of cumulative cases wherein 52% of these cases (9,627 COVID-19 cases) were in Cebu City.
The Department of Health acknowledged the increase in cases, saying that it had been attributed to "locally stranded individuals (LSIs)" or workers from the National Capital Region (NCR) and other areas returning to their home provinces.
Other Stories
In a virtual briefing last Friday, Health Undersecretary Maria Rosario Vergeire said that the DOH verified that those who went to their home provinces had caused the increase in their coronavirus cases.
Vergeire also said that the DOH continued to study the situation in Negros Occidental with national government officials visiting to check on the situation and their health facilities.
Meanwhile, the top three provinces with confirmed coronavirus cases were in Luzon, with Laguna topping the list with 10,149 total COVID-19 cases (or 3,410 newly-confirmed COVID-19 cases in two weeks). Laguna was followed by Cavite, Rizal, Bulacan, and Batangas.
Negros Occidental was at rank 6 with 2,400 total COVID-19 cases (or 1,386 newly-confirmed COVID-19 cases in two weeks).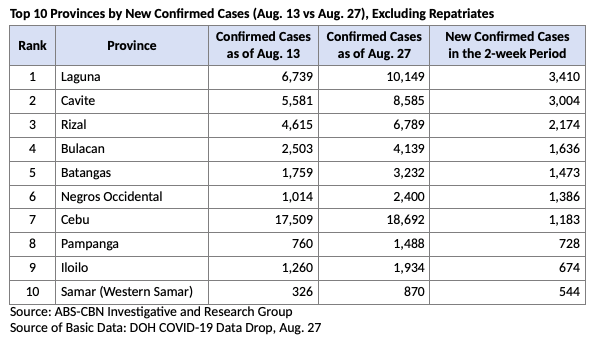 For more updates on news and entertainment, you may follow the Philippine Newspaper on Facebook! You may feel free to visit this site more often!