#10YearsOfOneDiretion now trending on Twitter
Following One Direction's announcement about celebrating its 10th anniversary, #10YearsOfOneDiretion became one of the trending topics on Twitter.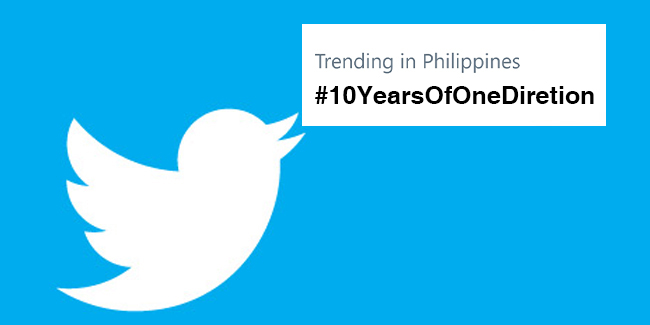 It started when One Direction on Wednesday posted a black-and-white photo as the band was about to celebrate their 10th anniversary.
RELATED ARTICLE: One Direction Announces #10YearsOfOneDirection
Currently, One Direction has 30.9 million Twitter followers — and yes, they're all excited about surprises that the band members have in store for them.
With this, the #10YearsOfOneDiretion — although the word "Direction" was misspelled in the hashtag — topped the trending list with over 130,000 tweets worldwide (and still increasing as of this writing).
Other Stories
Despite that, netizens still kept on posting throwback photos and videos in celebration for the band's 10th anniversary. Here are some of the tweets:
sorry i'm a one direction stan account again bye #10YearsOfOneDiretion pic.twitter.com/XbLuiOhr4a

— 🇬🇧gracie🇮🇪 (@grxciemarie) July 23, 2020
WE ARE UNBREAKABLE! #10YearsOfOneDiretion #10YearsOf1D pic.twitter.com/716jtEBNby

— ItsMarjVentura❤ (@marj_ventura) July 23, 2020
#10YearsOfOneDiretion GUYS THE C IS MISSING. SHE'S FORGOTTEN.#10YearsOfOneDirection#10YearsOfOneDirection#10YearsOfOneDirection#10YearsOfOneDirection#10YearsOfOneDirection#10YearsOfOneDirection#10YearsOfOneDirection#10YearsOfOneDirection pic.twitter.com/vSmnv4hNXb

— alexis (@jillsadavaaa) July 23, 2020
when they messed up the hashtag and it's still trending. That's power. #10YearsOfOneDiretion #10YearsOneDirection pic.twitter.com/IeBPkUDfA6

— Not you 💀 (@Dag_Note) July 23, 2020
*For more tweets about this, you may visit this link.
As reported on Billboard, members of the said band – except Zayn Malik – had openly discussed in different interviews about their likelihood of getting back together. However, Zayn Malik had remained silent on the said matter since leaving the band last 2015.
What can you say about the misspelled-yet-trending hashtag about One Direction? Let us know in the comments below!
For more news and updates, you may follow Philippine Newspaper on Facebook!