TikTok Will Start Its TikTokU Campaign On May 25.
TikTok was about to start its upcoming campaign, the TikTokU campaign, which aimed to empower its content creators in sharing their new ideas.
Starting May 25, the said campaign will give its users access to its educational short-form videos, as such, learning a new language, quick arts and crafts tutorial, fun trivia, and other related topics were included in the said campaign.
John Castro, the Community and Operations Manager of TikTok, said that TikTok was providing an alternative and accessible ways for the "thirsty creative minds" of Filipino users who were open to discovering new ideas, adding that TikTok users deserve to have access to different forms of knowledge.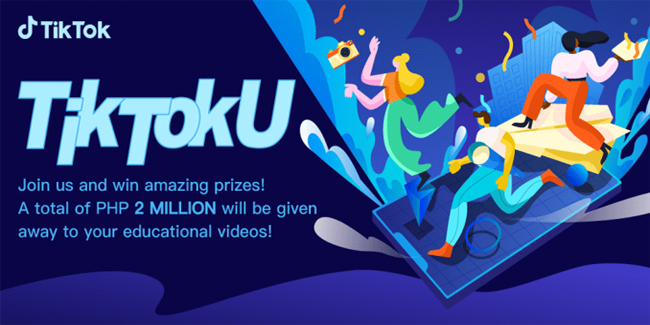 In a report on Unbox PH, the first round of this campaign was scheduled from May 25 to June 15 wherein the content for this round will be focused on the following: Science and Education, Do-It-Yourself (DIY) and Life Hacks, and Advice and Motivational content.
Moreover, those TikTok users who wanted to submit their entries, they must follow these guidelines set by TikTok.
TikTok users must create at least three entries for the said campaign. Those entries must be "educational and useful" and must fall under Science and Education, Do-It-Yourself (DIY) and Life Hacks, or Advice and Motivational content.
In addition, the ideal video format and duration were the following: video shot on a 9:16 vertical screen ratio and duration of 30 seconds and above. Also, the video entries must adhere to the community guidelines of TikTok.
Moreover, the said campaign was open for all Filipino content creators aged 18 years old and above.
Video entries will be categorized in to four tracks which was based on the number of their followers. Here are the following: Freshman Scholarship (10,000 followers or less), Sophomore Scholarship (10,000 – 100,000 followers), Junior Scholarship (100,000 – 500,000 followers), and Senior Scholarship (500,000 followers or more).
As per the report, winners will be selected on June 19 based on the total video views of all eligible videos participants post during the first round of TikTok's campaign.
What can you say about this? Let us know!
For more news and updates, follow Philippine Newspaper on Facebook!