Here's a viral video of a rider who gave new helmet to a delivery driver.
A certain video touched the hearts of the netizens when a rider borrowed money from the delivery driver and gave a new helmet in return.
This, as Team Katagumpay posted a video on Facebook and garnered over 5.2 million views as of this writing.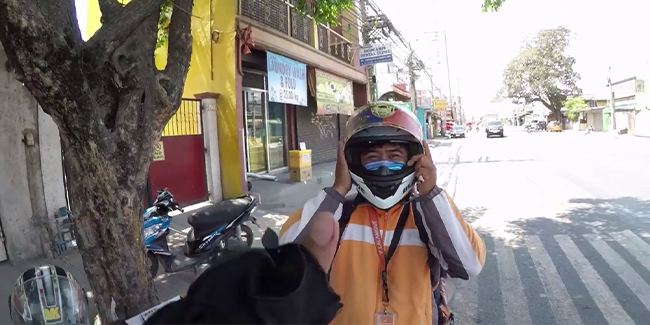 Social Experiment
In this video, a motorcycle rider was conducting a social experiment at that time. While driving, he saw a delivery driver who waited for his customer to arrive.
According to a rider, he was trying to convince the delivery driver just to borrow PHP 100.00 for the gasoline. The rider then observed the reaction of the driver, thinking about the driver's response on whether or not to give money to a stranger.
"Isang biyahe pa lang ako" – Delivery driver told the rider
As a response to the rider's request, the delivery driver said that he can only give him PHP 50.00 because he was on his first delivery trip. The rider was surprised that the delivery driver was willing to give money to a stranger.
As the rider received the money from the delivery driver, he thanked him and continued to his next plan.
Observation
Following his successful attempt, he then started to observe the delivery driver. He admitted that he was afraid while doing his social experiment.
As he was about to go to the opposite lane, he noticed that the delivery driver stayed at his last spot. He then said that the delivery driver deserved a new helmet for his good deed.
Giving Back
He went back to return the PHP 50.00 that he borrowed from the delivery driver. The delivery driver was surprised as he received his PHP 50.00.
The rider suddenly noticed — that the helmet used by the delivery driver was "half-face". He then turned over the new helmet and said that he needs to change his helmet.
Here's a full video:
What can you say about this? Let us know!
For more news and updates, follow Philippine Newspaper on Facebook!