Family of Pinoy Nurse in UK Who Got Infected w/ COVID-19 Watches Him Go Flatline Via Video Call
PINOY NURSE IN UK – A Filipino nurse in the United Kingdom died of COVID-19 and his family watched him go flatline through a video call.
A lot of Filipino doctors and nurses are working abroad. Many of them are putting their lives at risk amid the global pandemic now, the coronavirus or COVID-19.
In the Philippines, at least twelve (12) doctors died due to the said disease that was first recorded in China. More than a thousand healthcare workers were infected by the disease.
Abroad, several Pinoy doctors and nurses also contracted COVID-19 as they performed their sworn duties. One of them is Kenneth Lambatan, a Filipino nurse from Cagayan de Oro who worked in the United Kingdom.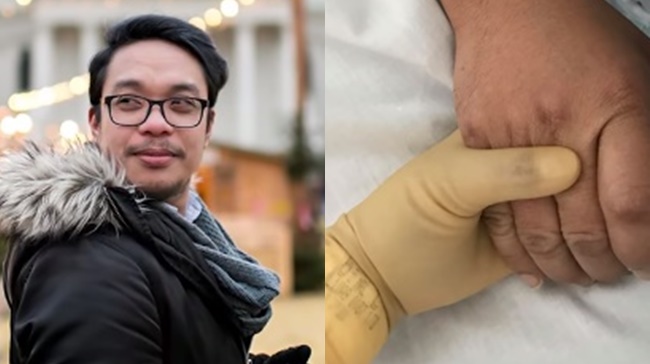 Based on GMA News, the said Pinoy nurse in United Kingdom died as he fought against COVID-19. He was intubated and his family saw him going on flatline through a video call.
Kenneth was a research nurse in London. However, when the coronavirus pandemic began, there was a shortage of nurses and he took responsibility of his sworn oath despite the request of his mother not to go for it.
The 33-year-old Pinoy nurse in UK was with his friends abroad. It was in 2017 when he flew abroad as it was really his dream to look for better opportunities. It was on Good Friday when his friend, Via, was informed by the hospital that he was going to be intubated.
Based on the report, on April 27, Kenneth was dying. Via was allowed to see Kenneth for the last time. She wore full-gear personal protective equipment when she walked into his room.
Via was thinking about Kenneth's family and all who wanted to see him while he was holding his hand. The respirator was removed and he was breathing deeply. Through a video call, the family of the Pinoy nurse in UK saw him going flatline.
Kenneth's family most especially his mom is deeply hurt and grieving over his passing. His loved ones and friends are currently doing things to bring home his ashes.
Condolences to Lambatan's family. May Kenneth's soul rest in eternal peace.
READ ALSO: Filipino Nurse in UAE Infected w/ COVID-19 Dies