Viral video of a man who showed off his DIY outfit for summer circulated online.
A certain video caught the attention of the netizens when a man presented his do-it-yourself (DIY) outfit for the summer season.
This, as Ejei Burgos shared his DIY outfit on social media in which, as of this writing, it reached over 35,000 shares and more than 576,000 video views.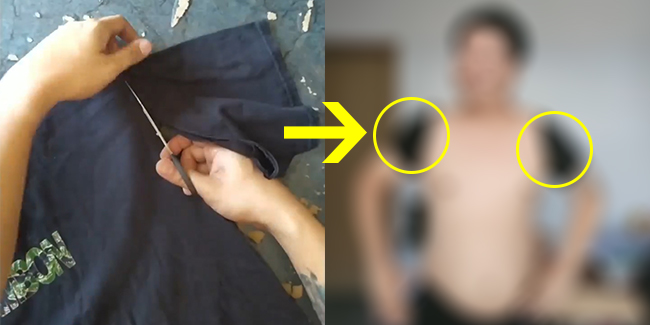 The national government imposed quarantine measures in the Philippines — the enhanced community quarantine (ECQ) general community quarantine (GCQ) — in order to prevent the further spread of coronavirus disease 2019 or COVID-19. With this, the national government encouraged the public to stay home while waiting for the vaccine or antiviral drug to arrive in the Philippines.
Some parts of the Philippines were experiencing hot weather due to a higher heat index. People opted to find more ways to beat the heat during the summer season.
Quarantine measures taught Filipino citizens on how to show off their hidden capabilities and talents while staying at their own houses. One of which was Ejei Burgos who had an idea of making a DIY outfit that suits the summer season.
In his video, he started his tutorial on how he made his DIY summer outfit. He said that it requires an unused shirt and a scissor in doing so. Once the materials were already set, he started to cut the shirt's left and right sleeve.
He said that this would boost their confidence while wearing this outfit. Also, he advised his minor viewers to seek assistance from their parents before doing this. Here's the twist — he wore the shirt's sleeves instead of wearing his shirt-turned-sando outfit — and netizens started to laugh.
What can you say about this? Let us know!
For more news and updates, follow Philippine Newspaper on Facebook!