The fears of spreading COVID-19 rose as Cambodia allowed a cruise ship to dock after it was turned away in other countries.
This, after an 83-year-old American woman, who was on the MS Westerdam cruise ship and flew from Cambodia to Malaysia, was tested positive for the 2019 novel coronavirus, now COVID-19. The American woman was one of the passengers who were flown out of Cambodia on Friday and Saturday as Malaysian authorities stated that 143 passengers continued their flights home from Cambodia, while the woman and her husband remained behind for treatment.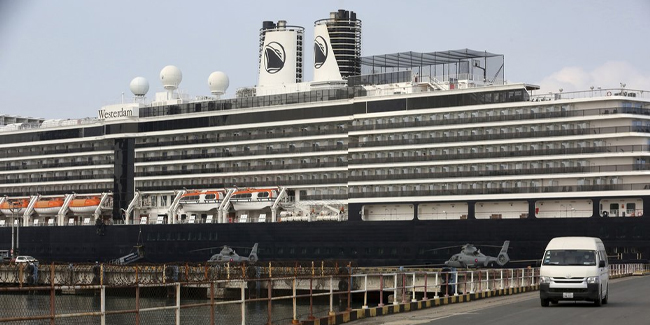 In a statement, Holland America Line, the operator of the cruise ship, on Monday (Tuesday in the Philippines) said that Cambodian health officials were on the cruise ship testing the 255 guests and 747 crew who were awaiting their clearance, as well as those guests who were currently staying at a hotel in Phnom Penh had all been tested. The operator added that no other guests or crew on board or at the hotel have reported any symptoms of the 2019 novel coronavirus, named COVID-19.
WHO Director-General Tedros Adhanom Ghebreyesus said that he was pleased Cambodia had agreed to accept the MS Westerdam ship, describing it as an example of an "international solidarity" advocate by the UN health agency.
Meanwhile, Cowling, the professor of Hong Kong University, said that keeping passengers on the ship for 14 days "would not be appropriate" as it could be a "high-risk environment".
What can you say about this? Just feel free to leave your reactions in the comment section.
Thank you for visiting our website. We hope we have helped you with regard to this matter. You may keep coming back for more informative guides. For more news and updates, follow us on Facebook!
READ ALSO | Romantic Guy Makes 'Low-budget Bouquet Of Flowers' For His Girlfriend