VP Leni Robredo on Tuesday, January 21, served lugaw and hot pandesal for breakfast while giving relief goods for Taal evacuees.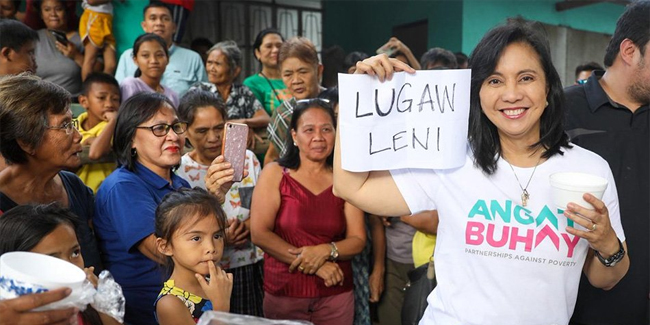 This, after VP Leni Robredo shared a video on her Twitter account, showing that they're giving relief goods to the residents of Tuy, Batangas, as well as serving lugaw and hot pandesal for the evacuees.
[A] EARLIER: VP Leni in Tuy, Batangas to bring relief assistance for those affected by the Taal Volcano unrest. At may pa-merienda pang lugaw at pandesal, served by the VP herself😇 #LugawLeni pic.twitter.com/iEkx721FFn

— Leni Robredo (@lenirobredo) January 21, 2020
While serving lugaw, VP Leni thank the city mayor of Batangas, the barangay captain for personally accommodating Taal evacuees in Tuy, Batangas.
VP Leni and her team also gave relief goods, lugaw, and hot pandesal at Lian, Batangas.
[A] The last stop for VP Leni's visit to Taal evacuees today was at Lian, Batangas, where her office and its #AngatBuhay partners brought food packs, hygiene kits, sleeping mats, and blankets. The VP also helped in serving lugaw and pandesal for merienda. pic.twitter.com/cwELQTg9w7

— Leni Robredo (@lenirobredo) January 21, 2020
Meanwhile, VP Leni Robredo responded to Overseas Workers Welfare Administration Deputy Executive Director Mocha Uson over allegations, claiming that she was limiting her relief goods to 5 pieces of hot pandesal and bottled water.
While our people are suffering from an unfortunate tragedy, this bearer of fake news continues to receive salary out of taxpayers' money.

Let's all help put a stop to the proliferation of lies.

Here's the link: https://t.co/75HXMUdAxf pic.twitter.com/J3LtMWldgm

— Leni Robredo (@lenirobredo) January 16, 2020
Thank you for visiting our website. We hope we have helped you with regard to this matter. You may keep coming back for more informative guides. You can now subscribe to our YouTube channel for Top 10 videos.
READ ALSO | Meet Romeo Reyes: The Oldest Runner Of Negros Occidental