This is the LET Exam Result June 2022 Elementary (Y-Z) Passers
LET EXAM RESULT JUNE 2022 — This is the list of passers (Y-Z) for the elementary level as released by the Professional Regulation Commission (PRC).
The exam results including the list of passers, top 10 passers, top performing and performance of schools, and other announcements related to this will be posted on this website once PRC will release it.
PRC conducted the fourth batch of licensure exam for teachers on June 26, 2022 at testing centers in Metro Manila, Baguio, Butuan, Cagayan de Oro, Cebu, Davao, Iloilo, Koronadal, Legaspi, Lucena, Pagadian, Pampanga, Rosales, Tacloban, Tuguegarao, Zamboanga, Bacolod, Cauayan, Dumaguete, Catanduanes, Catarman, Kidapawan, Jolo, Sulu, and Tawi-tawi.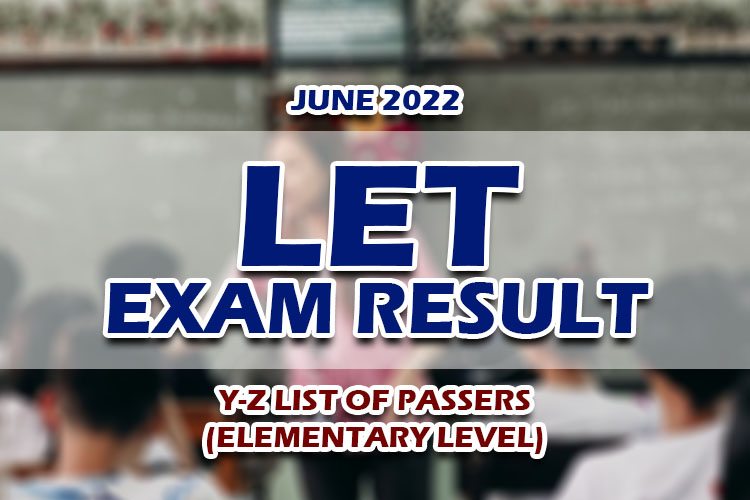 PRC Board of Professional Teachers Chairman Dr. Rosita L. Navarro, Vice Chairman Dr. Paz I. Lucido, and members Dr. Paraluman R. Giron and Dr. Nora M. Uy administered the board examinations.
SUMMARY OF RESULTS
Here is the list of passers:
Roll of Successful Examinees in the
L. E. T. – ELEMENTARY – All Regions
Held on JUNE 26, 2022
Released on AUGUST 4, 2022 Page:173 of 175
Seq. No. N a m e
8553 YABUT, JENNY BETH MOJAL
8554 YABUT, MICHELLE REYES
8555 YACAS, KIMBERLEY PEDALIZO
8556 YACAT, RAYMOND CATACUTAN
8557 YACUB, VELLY JOY ROGANO
8558 YACUB, VENNY JANE ROGANO
8559 YAESO, JENIFER RODRIGUEZ
8560 YAGMA, JESSIE TION
8561 YAGO, BERNADETH REPOMPO
8562 YAGO, JESSECA NATE
8563 YAGONG, REY ANN
8564 YAMA, DERMARIE PALALISAN
8565 YAMBOT, ANGELICA BOBIS
8566 YANDOG, JUNE CENT MORDESE
8567 YANGCO, CRESTILYN CADAYONA
8568 YANGUAS, MARRYANN BERMAS
8569 YANGULAR, IRENEA GUMALING
8570 YANGYANG, CHIRAMY WASAWAS
8571 YANOC, CELIA LAYAGUIN
8572 YANOC, GIMA ANTIQUIANDO
8573 YANONG, APRIL JEAN LLAGAS
8574 YANONG, DOMINGA UNABIA
8575 YANSON, MARIA JESSA SANTIAGO
8576 YANTO, RONIZON GACUTAN
8577 YAP, DANIELA MARIE LEUTERIO
8578 YAP, EMMALOU GENERALE
8579 YAP, LOVELY
8580 YAP, ZOYCEMAE YECYEC
8581 YAPE, MICHELLE ELPEDEZ
8582 YASON, ANGEL LYRA DEL CARMEN
8583 YAUN, JUDIEL VALIDA
8584 YAWING, JESCILLE GAMBI
8585 YAZON, PAMELA BARTOLATA
8586 YAÑEZ, REGIN PAELMARIN
8587 YBAÑEZ, BENIZA VALENZUELA
8588 YBAÑEZ, KENNY JAY DINGLASA
8589 YBAÑEZ, MA THERESA BUENAFLOR
8590 YBAÑEZ, MARIA CHRISTINA TABILON
8591 YBAÑEZ, RISHELLE MALINAO
8592 YBAÑEZ, ZACHARIAS
8593 YBERA, DULCE IMPROGO
8594 YBURAN, JIMWIL ARO
8595 YDROSOLO, SHEENA MAE MALACAD
8596 YEK, CALIXTA DIAZ
8597 YGOT, GENE ROSE ESPINOSA
8598 YGOT, LAARNI MONTERDE
8599 YGOT, MICHELLE VAN ALFORQUE
8600 YIM, IAN PAZ
Roll of Successful Examinees in the
L. E. T. – ELEMENTARY – All Regions
Held on JUNE 26, 2022
Released on AUGUST 4, 2022 Page:174 of 175
Seq. No. N a m e
8601 YNION, FELIX MORENO
8602 YONSON, CHARISSE PAUROM
8603 YOPO, ELVIE NOVENO
8604 YOSORES, GRETCHIN CANOY
8605 YPIL, JOANNE LYN DE LEON
8606 YSON, ALEA SEGURA
8607 YTAC, MARITES PALERIT
8608 YTANG, MECAILA ELAINE CORDOVA
8609 YTANG, RANEL ORTEGA
8610 YUBAL, JOVIE CORPIN
8611 YUBAL, LYZA GIL
8612 YUMOL, SHERYLL RECAHUERTA
8613 YUMUL, GRACE ANN JOY LOPEZ
8614 YUMUL, RICA JOYCE GOJO CRUZ
8615 YUNTING, GENEVA CARABOT
8616 YURANGO, CHARMIE FERNAN
8617 YUSI, MONETH PAR
8618 YUSON, JULIET CELOS
8619 YUSOP, NURJAIMA JULPI
8620 YUSOPH, ASNIA KAPAMPANGAN
8621 YUSOPH, JERONISA GAMOR
8622 YUSOPH, SANDRA KAMSALI
8623 YUTAN, CHARMAINE PRINCIPE
8624 YUTUC, EVA JHEAN BARLES
8625 YUZON, ROSEVELT YATOL
8626 ZABALA, GINA SARDA
8627 ZABALA, RICHELLE MICALLER
8628 ZABUCO, DIANA ROSE CUENCA
8629 ZACARIAS, ARJOHN DELA CRUZ
8630 ZACARIAS, JEAN MARLENE MIRASOL
8631 ZACARIAS, ROVENA BACALANGCO
8632 ZAFRA, LIEZL ROSE LIBERATO
8633 ZAINUDIN, BAINOT DAUD
8634 ZALZOS, ARLENE OLINDANG
8635 ZAMBOANGA, ALYN GABINETE
8636 ZAMBRA, DONNA MAE ALIBOCBOC
8637 ZAMORA, AMY CABINGATAN
8638 ZAMORA, DENNIS MANJARES
8639 ZAMORA, JOHN PAUL ARSENAL
8640 ZAMORA, MARIA ROWENA GALONO
8641 ZAMORAS, EDILYN FLORES
8642 ZANTUA, BERNADETTE MABEZA
8643 ZANTUA, CHRISTINE MITCHZ VASQUEZ
8644 ZAPANTA, MARIA CHRISTINA SANTOS
8645 ZAPATA, LORETO JR AÑONUEVO
8646 ZARA, HAZEL PORTEZ
8647 ZARA, MABEL COMPETENTE
8648 ZARAGOSA, CHRISTY GUILARAN
8649 ZARAGOSA, FARAH ODELMO
8650 ZARAGOZA, EMILY JOY GIO
Roll of Successful Examinees in the
L. E. T. – ELEMENTARY – All Regions
Held on JUNE 26, 2022
Released on AUGUST 4, 2022 Page:175 of 175
Seq. No. N a m e
8651 ZARRIZ, MA THERESA DASAS
8652 ZENAROSA, MARY ROSE BOLLIDO
8653 ZERNA, GENEVIEVE TOLEDO
8654 ZERNA, SAGEBERN GABIA
8655 ZERRUDO, MERCY IGNACIO
8656 ZOLETA, CAMILLE RICAMATA
8657 ZONIO, ERNALYN SANTIAGO
8658 ZONIO, JUNJIE PLAZA
8659 ZONIO, LEALYN OLOG
8660 ZONIO, LORENA CORTES
8661 ZORILLA, MARY JOY LARESMA
8662 ZORILLA, WILMERA MANDAG
8663 ZULUETA, ARJAY FUNTILAR
8664 ZULUETA, LEA ELEN
8665 ZULUETA, RHEA JANE
8666 ZULUETA, ZAIRA MAE LACERNA
8667 ZUÑIGA, KATRINA BASE
NOTHING FOLLOWS———————-
EXAM COVERAGE
General Education (GenEd)
English – Study and Thinking Skills, Writing in the Discipline, Speech and Oral Communication, Philippine Literature and Master Works of the World 
Filipino – Komunikasyon sa Akademikong Pilipino, Pagbasa at Pagsulat sa Panananaliksik at Masining na Pagpapahayag 
Mathematics – Fundamentals of Math, Plane Geometry, Elementary Algebra and Statistics and Probability 
Science – Biological Science – General Biology, Physical Science with Earth Science 
Social Sciences – Philippine Government New Constitution with Human Rights, Philippine History, Basic Economics, Taxation, Agrarian Reform, Society, Culture with Family Planning; Rizal and other Heroes, Philosophy of Man, Arts, General Psychology and Information and Communication Technology 
Professional Education (ProfEd)
Teaching Profession, Social Dimensions of Education 
Principles of Teaching, Educational Technology and Curriculum Development 
Facilitating Learning, Child and Adolescent Development 
Assessment of Student Learning, Developmental Reading 
Field Study and Practice Teaching 
Also, specialized subjects were covered in the licensure examinations for the field of specialization in English, Biological Sciences, Filipino, Physical Sciences, Mathematics, Values Education, MAPEH, Social Studies and Social Sciences, Agriculture and Fishery Arts, and Technology and Livelihood Education.
RELEASE DATE
PRC is expected to release the exam result within 25-30 working days after the last day of the examination.
REMINDER
The exam result may be released by the PRC earlier or later than the target date without prior notice.
REQUIREMENTS
Notice of Admission
Duly accomplished Oath Form
2 pieces of passport-sized ID photos in white background and with complete name tag
2 sets of documentary stamp
1 piece short brown envelope
Aspiring teachers can visit the official website of the Professional Regulation Commission and use the verification page for the results of the board examination passing rate.
Examinees will be required to provide their full name, birthdate, application number, exam name, and date of examination.