What Is "Cheat" In Tagalog? (Answers)
CHEAT IN TAGALOG – There are several Filipino words that don't have a direct translation in English, that's why we need context in order to fully translate them.
This article will teach you about the Tagalog translation of the word "cheat" based on the context of the sentence.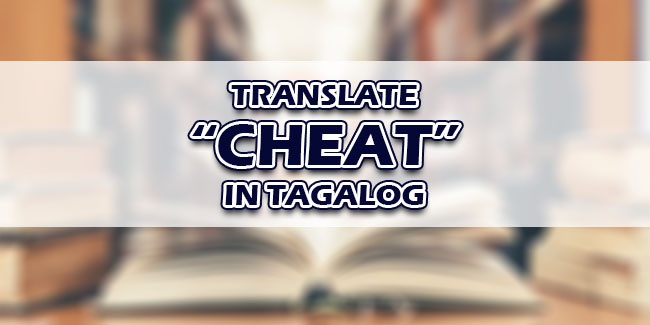 What is "Cheat"?
"Cheat" is an English term that refers to acting unfairly or dishonestly in order to gain an advantage.
What is "Cheat" in Tagalog?
"Cheat" can be directly translated as "mandaya", "manloko", or "manlinlang". The use of this word, however, may depend on the context of the sentence.
Here are some example sentences:
Ana started to suspect that Ben was cheating on her.
Leo's teacher accused him of cheating during the exam.
Angelo cheated on Bea for months.
Carl had no qualms about cheating on the test.
Leah said that she stayed true to her vows and has never cheated on Marco.
In Tagalog, these sentences could be translated as:
Nagsimulang maghinala si Ana na niloloko siya ni Ben.
Inakusahan siya ng guro ni Leo ng pandaraya sa panahon ng pagsusulit.
Niloko ni Angelo si Bea ng ilang buwan.
Walang pag-aalinlangan si Carl tungkol sa pagdaraya sa pagsusulit.
Sinabi ni Leah na nanatili siyang tapat sa kanyang mga panata at hindi kailanman nanloko kay Marco.
Thank you for visiting Newspapers.ph. You may express your reactions or thoughts in the comments section. Also, you may follow us on Facebook.
For other English-Tagalog translations, visit HERE.