Here is the Psychologist Board Exam Result February 2022 List Of Passers
PSYCHOLOGIST BOARD EXAM RESULT FEBRUARY 2022 — Here is the list of passers as released by the Professional Regulation Commission (PRC).
The exam results including the list of passers, top 10 passers, top performing and performance of schools, and other announcements related to this will be posted on this website once PRC will release it.
PRC conducted the Psychologist Licensure Examination on February 8-9, 2022 at testing centers in Metro Manila and Cebu.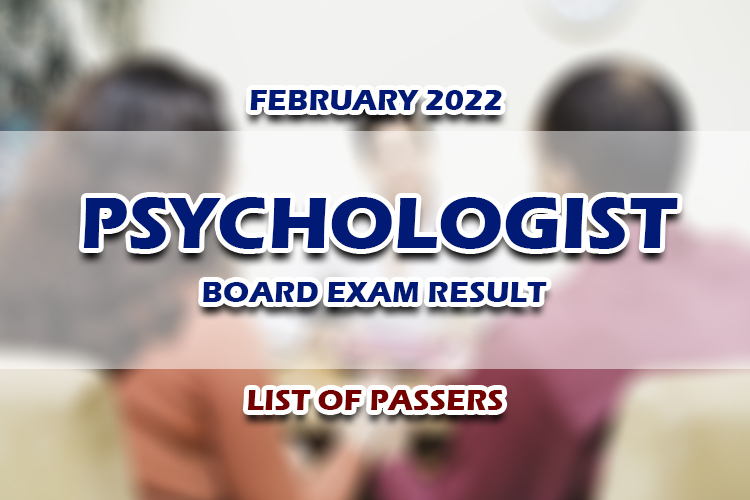 Chairman Ms. Miriam P. Cue and members Ms. Alexa P. Abrenica (inhibited) and Ms. Imelda Virginia G. Villar of the PRC Board of Psychology administered the board examinations.
The Psychologist board exam is one of the programs with less number of examinees conducted by the Professional Regulation Commission.
SUMMARY OF RESULTS
READ ALSO: Psychometrician Board Exam Result February 2022 FULL LIST
Here is the list of passers:
Roll of Successful Examinees in the
PSYCHOLOGIST LICENSURE EXAMINATION
Held on FEBRUARY 8 AND 9, 2022 Page: 2 of 6
Released on FEBRUARY 22, 2022
Seq. No. N a m e
1 ACOSTA, INGRID LADRA
2 ACOT, KARLA JEAN GICARAYA
3 ADLAWAN, RUBYNAH AI-AR URBIZTONDO
4 ADVINCULA, JOWIE LUMANOG
5 AGOOT, DOMINICK BACCAY
6 AGUILAR, BENEDICK MARTIN
7 ALAGAR, JANETTE ESPIRITU
8 ALLANIGUE, MA ALLENE PERNECITA
9 ALMENTO, APRIL CANONIGO
10 ALONZO, DANIELLE CELINE PARPANA
11 AMANDY, IMERALD MICHELLE ESMERALDA
12 ANGELES, HANNAH MARIA SABRINA PAGKATIPUNAN
13 ANONGOS, REX JR LADRERO
14 ANTONIO, REYALYN URFANO
15 APOLINAR, NOREENA DOMINIQUE FERRER
16 ASPA, HANS LEO CANTUBA
17 ASTRERA, MARY JANE MERANA
18 AVELLANA, MARIE ELAINE FAYLONA
19 AWAT, MARIVIC MOIT
20 BACORRO, KIMBERLY OCHONA
21 BADAR, RUTH VILLA
22 BADLANI, CHANCHAL DEVIDAS
23 BAIS, DEBBIE MARIE DALANGIN
24 BAJIN, LALAINE NECESARIO
25 BALANA, LAWRENCE DELA DINGCO
26 BALANCIO, CZARAH LENINA ESPIRITU
27 BALANO, JOHN MARC GATUZ
28 BANONO, JOSELITO JR OCAMPO
29 BANTANG, FATIMA OLGA ARBIS
30 BAUNILLO, JUNE DE LA PAZ
31 BAUTISTA, SAMUEL FRANCIS LEE
32 BENDICIO, DONNIES DEJUCOS
33 BENGZON, JOSEPH ANTON
34 BERNARDO, ZARALYN MERCADO
35 CAAGBAY, MA CRISTINA ROYO
36 CABILES, NESSA MAUREEN DE ARCE
37 CACHO, DANICA CLARISSE MALIT
38 CALAMIONG, YRA MARIE LIMOS
39 CALINGO, EDEN MENDOZA
40 CALLANGAN, RACHELLE ROSALES
41 CALLAO, ALECXA DENISE LUCES
42 CAMACLANG, KENNETH LLOYD MAPUTE
43 CASANO, JENNY LYN BALITAAN
44 CATINEC, HOWARD RAON
45 CAÑETE, JOHNNY REY GULA
46 CHENG, PAULA GLENDA FERRER
47 CHING, KATRINA FRANCES SOON
48 CHU, CHARMAINE FAYE MACALE
49 CLORINA, ROMELITO MANUEL DELOS SANTOS
50 CO, TRIXIA ANNE CALARA
51 COMICHO, BIANCA JOSE
52 CRISTO, LOVELY MARASIGAN
53 CRISTOBAL, JETHRO OREJANA
54 CRUZ, MARGARITA ISABEL ANGELES
55 CUCIO, RACHEL ANGELIQUE LOUELLA ISIP
56 DARAY, MATTHEW RAPHAEL TRABAJO
57 DE CASTRO, KIANA BELTRAN
58 DE JESUS, KAREN ANNE MARIE TIMBREZA
59 DE LEON, CAMILLE VIDON
60 DE LUNA, JOANNA LIEZL CUEVAS
61 DEE, EUNICA AGUILAR
62 DEJAN, GENESIS COLOT
63 DEL ROSARIO, ANNABELLE CRUZ
64 DIMAR, ERIC LAGMAN
65 DISTAJO, LEILA FERNANDEZ
66 DOMINGUEZ, MARIBEL LAPUOS
67 DULLA, JOHN KEVIN HANDA
68 DUMENDEN, FATIMA AMOR CARNATE
69 DUNGOG, KALAYAAN VILLARONTE
70 DURAN, JENNY ROSE REBOREDO
71 EGARGO, FAYE JESSA DURAN
72 EMBOG, MIKHAILA ROSE MATIGA
73 ENGLATERRA, SHARA LYN TABURADA
74 ENRIQUEZ, LLOYD TONI FUNTANAR
75 ESCASINAS, MARA UY
76 ESCUDERO, JULIE ANN GARAY
77 ESPINA, LEAH ANN CABUCOS
78 FABROA, JOSE NORIEL ASIS
79 FAJARDO, ROSALIE MAE RARAS
80 FERNANDEZ, MARIKA GIANINA HIZON
81 FLORES, DIANNE GARCIA
82 FLORES, MARIA PAMELA PELARION
83 FRANCIA, MABETH BUETA
84 FRANCISCO, JENNY LOU TAMPUS
85 FUENTES, ALLEANA MICAELA MAGLAQUE
86 GABRINAO, JET ALBERT JAVIER
87 GACASAN, EVA MARIE PANONG
88 GAPAY, GISELLE ANDREA VILLANUEVA
89 GARCIA, DHANIKA AUSTINE KO
90 GARCIA, ROSELLE DELA CRUZ
91 GEKIN, GERALDINE TUBURAN
92 GIDAYA, KRISTOFFER RYAN TUASON
93 GONZALEZ, TANYA MARIA BAÑEZ
94 GUILLERMO, GIANINA LOISA C.
95 GURA, ELISA MAE ORANZA
96 HOGGANG, GERALDA PINOY-AN
97 ILAGAN, GILLIAN GABRIELLE TAN
98 INDEFENSO, ANNE BERNADETTE LLOBRERA
99 INTAC, JOEY PUMICPIC
100 INTONG, JOANNIE VILLAREAL
101 JACINTO, LESLY ANN CAPUY
102 JACOB, ALVIN III LEE
103 JALBUENA, ROSANNE RHEZEL PEREZ
104 JAMILA, SERGIO WILLIAM IV OLANO
105 LACSON, DANISE ANGELICA GAMAT
106 LAGAHIT, JUNNECCA JAMBONGANA
107 LAMIS, TAMARA JAZMIN BALTAZAR
108 LAPORNO, PATRICIA MARIE MAHILUM
109 LEDESMA, DANA ANGELICA SINGSON
110 LEDESMA, GIAN CARLO MIJARO
111 LEE, GRACITA MICHELLE ENTIENZA
112 LEGASPI, MANUELA ANDRES
113 LIBRES, SYRA CRIZELLA MARTINEZ
114 LIM, KIM REGINE JUECO
115 LINCO, ABRAHAM CUEVAS
116 LINGLINGEN, HAZEN GODDI
117 LIPAT, DIANE DIMAPASOK
118 LIZADA, GABRIEL SEBASTIAN NOGRALES
119 LONOY, PAMELA MAY RANARA
120 LUCERO, SAHARA SUERTE
121 LUCEÑA, LIAN MA. KOLBE RIVERA
122 LUSPE, REYMART RUBION
123 MACEDA, MARC CLINT ALESNA
124 MAGBOO, ROMAIN GUTIERREZ
125 MAGLINTE, JOAN MAE SIMEON
126 MAGTIBAY, KRISTINA FE LAGASCA
127 MALANG, MIRIAM TRINIDAD
128 MALAPO, MARJUALITA THERESA TABUGAN
129 MANALO, KATHERINE MENDOZA
130 MANANQUIL, GUILA CELINE
131 MANJARES, SHIELA MARIE DIMANDANTE
132 MAPOY, ALVIN JOSEPH DE JESUS
133 MEDINA, JOHN ISMAEL JOSE
134 MELGAZO, MELIVEA IGUT
135 MERCADO, FREDERICK DENNIS MARASIGAN
136 MIRAFUENTES, TERESITA CESAR
137 MIRANDA, GAEA MARELLE JAVIER
138 MOLINA, DANIZA DIANNE LEGASPINA
139 MOLINA, JENAMAE LUMBOY
140 MOLINA, MICO MARIÑAS
141 MONTAÑEZ, ABEGAIL BOTICARIO
142 MUZONES, LAARNI DIAZ
143 NALDO, GREGORIO JR SERVANDO
144 NANAO, DAN AUGUST BUENAVISTA
145 NARAG, GADELYN TUMANGUIL
146 NEPOMUCENO, MA. ROSARIO LAGMAN
147 NICOMEDES, CHRISTIAN JASPER CABALLERO
148 NOYNAY, CHEINELY MIÑOZA
149 OCLARIT, JOCELYN CADIZ
150 OLIVO, MARK ALLEN VENTURA
151 ORACION, KARLA MARIE PLAZA
152 ORBE, JORDAN JUBAS
153 PAALAN, HANNAH MAE BATOON
154 PACA, PATRICIA MONIQUE MENDOZA
155 PACIFICO, MIKE JANSEN BORJA
156 PADATE, SIRIKIT UMPA
157 PADERES, ARGELOU PABELONIA
158 PALMA, JOHN LAYSON
159 PALOMA, JERECO OLIVERIO
160 PARCON, APRYL MAE CAGA
161 PASCUAL, QUIANO EMMANUEL SANDOVAL
162 PATANA, JAYMAR TAGAYTAY
163 PATDO, DAISYLET RODRIGUEZ
164 PAULINO, JEFFREY JAMES FAUSTINO
165 PAUNIL, LEONARD VILLALUZ
166 PEDERNAL, ENOLA GAY MISAJON
167 PEREZ-TORRES, MARY EASTER CLAIRE SALGO
168 PIZARRO, CARLOS MENDOZA
169 PORCIA, MICHAEL CRUZ
170 PRESALDO, RAE MARK ANDANAR
171 PRINCIPE, MARK JAYSON LIM
172 PUERTOLLANO, AZENITH JOAN FORNESTE
173 PUGOY, JEMARIE LABORA
174 PUGOY, NOVE ANN ALBA
175 QUINONES, GEORIET PROCESO
176 RAMIREZ, ROQUELYN DUHAYLUNGSOD
177 RAMOS, MA THERESA BENOLIRAO
178 REYES, MERRIZA BASA
179 ROXAS, GILANA KIM TAN
180 SADICON, BUENAFE SALVA
181 SALANGO, FLORENCE FLORES
182 SAMANIEGO, MA. DANIELA ANNE BUENAFE
183 SAN DIEGO, CHERLINE AQUINO
184 SANCHEZ, EVELYN SIMBULAN
185 SANCHEZ, LILIBETH LORETO
186 SANGID, BAI SYRAH LAILA YAZEN
187 SANTIAGO, FLORINA PADILLA
188 SARMIENTO, JENALYN MANGABAT
189 SARSALEJO, AILEEN KRIS CASTILLO
190 SENSANO, CHELSEA MAE AGUSTIN
191 SINDAYEN, YEZZA ESTRADA
192 SOL, KAREN POLICARPIO
193 SOLIMAN, BENNY SAMSON
194 SOMBREA, DONNA PARCON
195 SUNGA, ARCHIE BALINGIT
196 SUNI, KENO ALVIR GALLETES
197 SY, JANINE MICHELLE ONG CO
198 SY, RACHEL SALIGANAN
199 TABARANZA, KRISTIANNE TRANGIA
200 TAN, JERYL SHAWN TAN
201 TAN, SARAH CHRISTINE GLINOGA
202 TANZO, RUSIEL CADENA
203 TAPIZ, LOUISSE NOREEN TE
204 TAYABAN, HYLENE SAMUEL
205 TECSON, REYIEL PELA
206 TIONG, NORVIE BULOS
207 TOLEDO, ELIZABETH AQUINO
208 TOMAS, LUCRECIA VALENZUELA
209 TRUGILLO, REMER KHARLA ORTIZ
210 TUAZON, ARDYNE DAGTA
211 TY, GIDEON LUKE PEREZ
212 UBALDE, NIñA MARICHELIZ BALLAR
213 ULAN, CARLA DOREEN SAMSON
214 UNITE, THAMMIE ADELAINE FERRER
215 VICENTE, HAYALEE JOY CONDE
216 VILLALUZ, SHAIRAJON RUBIN
217 VILLAMIL, DANILO JR MONFORTE
218 VILLAR, KAISSER KIM SANTOS
219 VILLAVICENCIO, ANGELA CHRISTINNE QUIZON
220 VIOLAGO, JOSEPH ELEUT GOMEZ
221 VOLOSO, INDIRA GRACE PAGHUBASAN
222 WEE, CHALDEANNE DINGLASA
223 WEE SIT, LIZA MARIE MACROHON
224 YATCO, MARIA CARMINA LEJANO
225 ZAIDE, GLECY ANN OQUIALDA
226 ZAYCO, JULIO V TANALLON
NOTHING FOLLOWS———————-
EXAM COVERAGE:
Advance Theories of Personality
Psychological Counseling and Psychotherapy
Advance Psychological Assessment
Advance Abnormal Psychology
RELEASE DATE
PRC is expected to release the Psychologist board exam result within 5-6 working days after the last day of the examination.
REMINDER
The board exam result may be released by the PRC earlier or later than the target date without prior notice.
REQUIREMENTS
Notice of Admission
Duly accomplished Oath Form
2 pieces of passport-sized ID photos in white background and with complete name tag
2 sets of documentary stamp
1 piece short brown envelope
Aspiring psychologists can visit the official website of the Professional Regulation Commission and use the verification page for the results of the board examination passing rate.
Examinees will be required to provide their full name, birthdate, application number, exam name, and date of examination.