Here is the X-Ray Technologist Board Exam Result December 2021 List of Passers
X-RAY TECHNOLOGIST BOARD EXAM RESULT DECEMBER 2021 — Here is the list of passers as released by the Professional Regulation Commission (PRC).
The exam results including the list of passers, top 10 passers, top performing and performance of schools, and other announcements related to this will be posted on this website once PRC will release it.
PRC conducted the X-Ray Technologist Licensure Examination (XTLE) on December 20-21, 2021 at testing centers in Metro Manila, Baguio, Cagayan de Oro, Davao, Iloilo, Legaspi, Lucena, Rosales, Tuguegarao, and Zamboanga.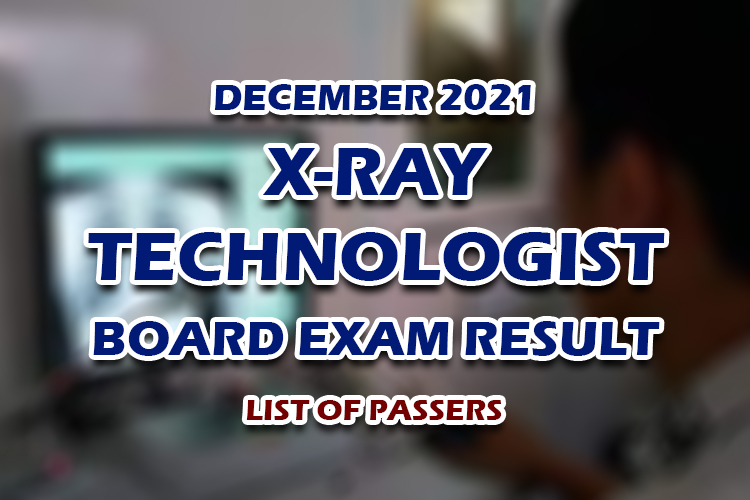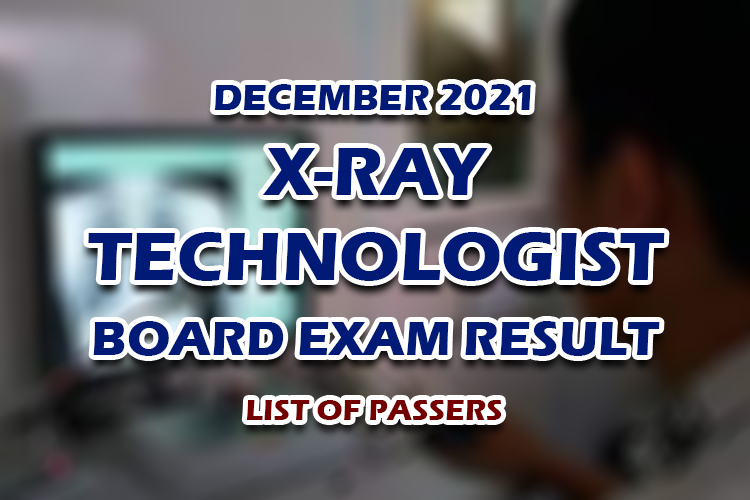 PRC Board of Radiologic Technology Officer-in-Charge Mr. Reynaldo Apolonio S. Tisado and members Dr. Orestes P. Monzon, Mr. Bayani C. San Juan, and Ms. Ma. Jesette B. Canales administered the board examination.
The December 2021 X-Ray Technologist board exam for Cebu and Tacloban examinees is rescheduled because of typhoon "Odette".
SUMMARY OF RESULTS
READ ALSO: Radiologic Technologist RadTech Board Exam Result December 2021 FULL LIST
Here is the list of passers:
Roll of Successful Examinees in the
X-RAY TECHNOLOGIST LICENSURE EXAMINATION
Held on DECEMBER 20 & 21, 2021
Released on JANUARY 4, 2022
Seq. No. N a m e
1 AGUILAR, LEO LUIS BONOTAN
2 ALABAT, JALILAH DALDAL
3 ANICO, MIKAELA BIDES
4 BANDAHALA, NARCISA LINTASAN
5 BAQUIRAN, GRACE VINARAO
6 BARIDJI, FATMA JANRAH SUHAIDI
7 BAS, JESUS BANGCULETA
8 BRIONES, MARY KRISTINE PASCUA
9 CABANA, JONELL SALDITOS
10 CASTROVERDE, STEPHANIE PLAZO
11 CRUZ, JOHN IRVIN URBANO
12 CUBE, SHEIALU PANGAWILAN
13 CUSAY, NOIME LANGNGAG
14 DANGANGAO, CHARLIZE ALLEG
15 DAPON, CHRISELLA CASTRO
16 DELA PEÑA, MARK ROEVIN FRANCIA
17 DIZON, ELSA SERNADILLA
18 DUNCAN, MAR JR OSORIO
19 ESMEDINA, KENT ABASTILLAS
20 ESTA, JONEIL BULFA
21 GRAZA, CRISTINE BARROGA
22 HABIBUN, NURSALYN JAMA-ANI
23 MAAC, MELODY GORNES
24 MALIT, JAYMIE ROSE ESTACIO
25 MALLARI, JUSTINE KATE SISA
26 MANALO, JONATHAN ALI BALAGTAS
27 MARZAN, JESSANINA MOSCOSA
28 MORADOS, SHAYNE CAMLIAN
29 NASSER, DINA OMAR
30 PADILLON, GRACYN ALMENARIO
31 PAGALA, GILMOR KINDIPAN
32 PAGBILAO, JEFF ACOSTA
33 PATTA, NURSIMA AKSARA
34 QUITA, GERALD ALLEN CABRERA
35 RACAZA, HASSEM CABONCE
36 RANGAN, ASMAIRA MADIN
37 RANGAN, ISNAIRAH ABUBACAR
38 SAGUILOT, SHELLA PACLAY
39 SUMAIL, NESRINE MERCENE
40 TAHIR, FAIRODZ ALI
41 TALLION, DIVINA SAGMAYAO
42 TOLENTINO, JOSE MARI TARROMA
43 TOYO, LADY ANN CAPINDING
44 URBANO, GLENN HAROLD BUQUIRIN
NOTHING FOLLOWS———————-
EXAM COVERAGE
Radiologic Physics; Equipment and Maintenance; Radiobiology, Radiation Protection and Quality Assurance
Image Production and Evaluation
Radiographic Procedures and Techniques
Patient Care, Management, Ethics and Jurisprudence, Human Anatomy and Physiology and Medical Terminologies
RELEASE DATE
PRC is expected to release the exam result within 3-7 working days after the last day of the examination.
REMINDER
The exam result may be released by the PRC earlier or later than the target date without prior notice.
REQUIREMENTS
Notice of Admission
Duly accomplished Oath Form
2 pieces of passport-sized ID photos in white background and with complete name tag
2 sets of documentary stamp
1 piece short brown envelope
Aspiring x-ray technologists can visit the official website of the Professional Regulation Commission and use the verification page for the results of the board examination passing rate.
Examinees will be required to provide their full name, birthdate, application number, exam name, and date of examination.