Here is the Geologist Board Exam Result December 2021 List of Passers
GEOLOGIST BOARD EXAM RESULT DECEMBER 2021 — Here is the list of passers as released by the Professional Regulation Commission (PRC).
The exam results including the list of passers, top 10 passers, top performing and performance of schools, and other announcements related to this will be posted on this website once PRC will release it.
PRC conducted the Geologist Licensure Examination on December 27-29, 2021 at testing centers in Metro Manila.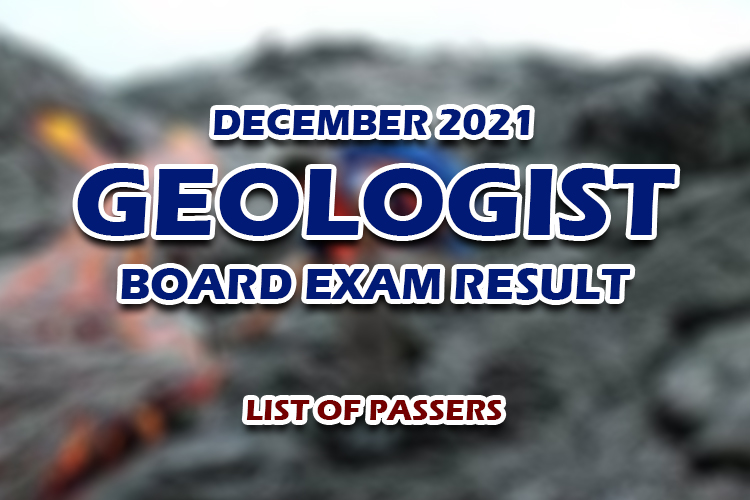 PRC Board of Geology Officer-in-charge Benjamin S. Austria and member Elmer B. Billedo administered the board examination.
The December 2021 Geologist board exam is the pilot program for the computer-based licensure examinations of the Professional Regulation Commission.
SUMMARY OF RESULTS
Here is the list of passers:
Roll of Successful Examinees in the
GEOLOGIST LICENSURE EXAMINATION
Held on DECEMBER 27, 2021 & FF. DAYS
Released on DECEMBER 29, 2021
Sequence No. N a m e
1 ABLANG, ABEL ANGEL ROJAS
2 ADUANA, MARIA RAZELLE AGELLON
3 AGUISANDA, MARA DOMINIQUE TOLENTINO
4 ALBERTO, JASON PEREZ
5 ALBUERO, HAINER PANERGALING
6 ALCANTARA, CHODI ROSE MANAOG
7 ALPAY, PAULINE MAE IBASAN
8 ANGEL, ELTHIA GAPO
9 APACIBLE, ANNA PATRICIA PANGILINAN
10 AQUINO, VIOGHN JENDRICK MARIANO
11 ARANETA, CHRISTINE JOY
12 ATIENZA, JOSEPH BUENO
13 AVILES, ALGEROME REYES
14 BABON, LARISSA GABRIELLE OBLEPIAS
15 BAGAFORO, SHANIA SEGUI
16 BALADAD, MARY SANLY MAGHIRANG
17 BEGONIA, MAVERICK DOMINIQUE CATAPUSAN
18 BIGTAS, KHALIL SHAMIR SOMORAY
19 BORJA, ANTERO II HUENDA
20 BUENAVISTA, PATRICK SAM MELLA
21 CALDERON, NORIZA PUNGTILAN
22 CANTO, WELMER BUGHAO
23 CARI, JOHN ESTEBAN ESTOPEREZ
24 CASTRO, INGRID DARA MENGUA
25 CASTROVERDE, JEROME VALDEZCO
26 DE LA CRUZ, DANIELLE GEM ANGELES
27 DUMANGENG, EVER PRAISING MARIAH BANTIYAN
28 DUPIO, ARMANDO III BRAZIL
29 ENCARNADO, GERIK IVAN LEGARBES
30 EUSTAQUIO, KLAUDIA JUSTINE MAPILE
31 FARRE, JAMAICA JOY FELIZMEÑA
32 FIEL, JOHN ANTHONY ALBINA
33 GAMBA, ROSALIE MAY GRACILLA
34 GAPATAN, JARED ARCHON BARRERAS
35 GATAB, KENNETH IAN CORRIE
36 GELILIO, NICKO FORMENTO
37 GERALDEZ, VINCENT JHON PAGALING
38 GONZALES, ISABELLE BIANCA BELTRAN
39 GRAGEDA, JULIAN MARIE BERNICE MAGKASI
40 GUNTANG, GERALDINE ABRIGO
41 KIOK, JANELI MAE EVANGELISTA
42 LAGUMBAY, MIGUEL DION DE LA CRUZ
43 LIBRE, ADRIAN MARAON
44 LIWANAG, GIAN CARLO TOLENTINO
45 LUDOVICE, PATRICK HENRY GARCIA
46 MAGALLANES, MARK MATTHEW MAGDAEL
47 MAQUINTO, REÑER JOSEPH CAASI
48 MASIK, MIADHENN ANGEL MALAPAD
49 MENDOZA, ANNA SARAH RHEA SEDUTAN
50 MENDOZA, FRITZIE JOYCE AMPESO
51 METRAN, KRYZ LORD OWEN PONFERRADA
52 OMAC, XTELL LISONDRA
53 PANTE, BEVERLY CAÑIZO
54 PARREÑO, MIEHJ GARGAR
55 PERONG, JOHN GLENN BAES
56 QUITO, JOSHUA ANGELO TAGATAC
57 RAMILO, GILBERT ABANTE
58 RAMOS, CHRISTINE SARAH SOTALBO
59 RAMOS, MARIA ISABELA MAMINTA
60 RAMOS, RICHIE LOUISSE MONTANO
61 REJAS, DEAN LESTER PITAGARA
62 REYES, ADA BEATRICE FRANCO
63 SALINAS JR, ROBERT II PEÑA
64 SAMONTE, CAROL LINN NERIT
65 SANTIAGO, JED RUZZIEL DAYAGANON
66 SEDEÑO, JULES MORTEGA
67 TABLIZO, MEYRICK UBALDE
68 TAMAÑO, ANGELA JOYCE ANDRA
69 TANGCALAGAN, AJ BRAIN PETALCORIN
70 TRILLANA, EMIL GENEVIAN DE LA TORRE
71 UY, PEARLY SHINE RODRIGUEZ
72 VALDEZ, JOHN MICAH CORRO
73 VALENCIA, AILEEN MAE COLLANO
74 VERGARA, CHESKA JOI GARCIA
75 VIDAL, HAZEL ANDREA LOREZCO
76 VILLAMOR, FRANZ CHRISTIAN BORREROS
77 VILLANUEVA, JUNARY MARGAUX PEÑALOZA
78 VILLARIN, VENICE CLAIRE MALGAPO
79 ZABALA, PAULA ZARAH REGINA FAJARDO
NOTHING FOLLOWS ————–
EXAM COVERAGE
General Geology (Covering the Earth as a Planet, Structural Geology and the Plate Tectonics Theory, Earth Materials, Earth Processes and Landforms, and Stratigraphy, Historical Geology: The Earth, Philippines and Southeast Asia) 40%
Petrology and Mineralogy (Covering Chemistry, Crystallography, Physical and Optical Properties of Minerals, Common Rock Forming Minerals, Igneous, Sedimentary and Metamorphic Rocks and Petrographic Techniques) 30%
Applied Geology (Covering Geologic Resources Applied Geology, Analytical Methods and Tools and Geology as a Profession) 30%
RELEASE DATE
PRC is expected to release the exam result on the last day of the examination.
REMINDER
The exam result may be released by the PRC earlier or later than the target date without prior notice.
REQUIREMENTS
Notice of Admission
Duly accomplished Oath Form
2 pieces of passport-sized ID photos in white background and with complete name tag
2 sets of documentary stamp
1 piece short brown envelope
Aspiring geologists can visit the official website of the Professional Regulation Commission and use the verification page for the results of the board examination passing rate.
Examinees will be required to provide their full name, birthdate, application number, exam name, and date of examination.