Here is the Certified Public Accountant CPA Board Exam Result December 2021 List of Passers
CERTIFIED PUBLIC ACCOUNTANT CPA BOARD EXAM RESULT DECEMBER 2021 — Here is the list of passers as released by the Professional Regulation Commission (PRC).
The exam result including the list of passers, top 10 passers, top performing and performance of schools, and other announcements related to this will be posted on this website once PRC will release it.
PRC conducted the Certified Public Accountant Licensure Examination (CPALE) on December 16-18, 2021 at testing centers in Metro Manila.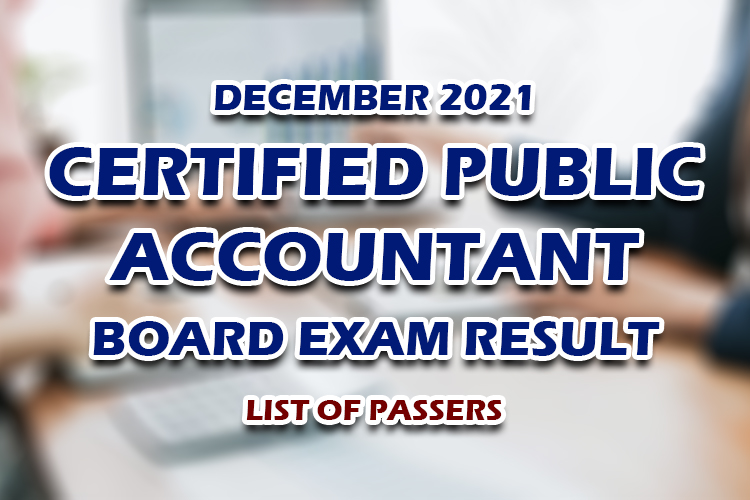 PRC Board of Accountancy Chairman Noe G. Quiñanola, Vice-Chairman Marko Romeo L. Fuentes, and members Gloria T. Baysa, Samuel B. Padilla, Arlyn Juanita S. Villanueva, Thelma S. Ciudadano and Gervacio I. Piator administered the board examination.
The December 2021 CPA board exam for NCR examinees is originally scheduled on October 2021 but rescheduled because of the extension of the Alert Level 4 in Metro Manila.
SUMMARY OF RESULTS
Here is the list of passers:
Roll of Successful Examinees in the
C. P. A. LICENSURE EXAMINATION
Held on DECEMBER 16, 2021 & FF. DAYS
Released on DECEMBER 29, 2021
Seq. No. N a m e
1 ABITRIA, LORRAINE AGBUNAG
2 AGAWIN, JAN KEVIN URSUA
3 AGUILA, RICKY MORENO
4 ALCORIZA, MARRI YSABELLE DIONISIO
5 AMASAN, CHRISTIAN JAY MANGUILIMUTAN
6 ANCHETA, JULIA ANN AFICIAL
7 ANDASAN, ROXANNE ANGELA ABUCAY
8 APALISOK, DOMINICK MADRIA
9 APAYA, KRIS ANGELA CRUZ
10 APIADO, JOHN MICHAEL DELA CRUZ
11 ARANILLA, JOSHUA FERRAREN
12 AREVALO, MARINELLA MADELEINE AMIL
13 ARKONCEL, VICTOR EMMANUEL SANTIAGO
14 ASUMEN, DHIOSELLE CUARIO
15 BACANI, CHRISTIAN KYLE BASILIO
16 BACARAT, BANIAMIN TUCAL
17 BALDERAS, JASMIN GARCIA
18 BALDOVINO, CHRISTIAN LORENZO SIENA
19 BALIGUAT, NICHOLAS JAMES GOMEZ
20 BANDIOLA, MARK LAURENCE DESTOR
21 BANTING, ALYANNA NICOLE GUTIERREZ
22 BAQUIRAN, LESLIE JOY CEBALLO
23 BARNACHEA, MA LOURDES PILIEN
24 BAS, PAULO CURITANA
25 BASCO, ANGELA QUITA
26 BATHAN, KRYSTEL LORRAINE BALDIVIA
27 BERDEJO, BIO EIRON PALAHANG
28 BERNARDINO, JEREMY ARELLANO
29 BERNARDO, MARY GRACE CONCEPCION
30 BIRUNG, JILLIAN MARIAH GRIMALDO
31 BISOÑA, BERNARDO JR BERMUDO
32 BLANCO, MA ANGELICA CACUT
33 BONIFACIO, JULIE ANNE BERNAL
34 BORINGGOT, HARROLD BANCE
35 BORINGOT, CHARLYN GRACE LY
36 BORRES, VILMA UBALDO
37 BRISTOL, ELAINE GRACE ALAP
38 BRUCE, GABRIEL EDMAR LOYOLA
39 BUELA, EDWIN JR MENDOZA
40 BUTAY, JUSTICE BAUTISTA
41 CABANGAL, ERVIN CARL PLAZA
42 CABILI, SIGRID LORIELLE COROCOTO
43 CABINIAN, KEN ELEXANDER CO
44 CACHO, ANGELICA LAMAYO
45 CAINDOC, JULIE ANN AMIGO
46 CAMBA, SAMANTA PALMARIA
47 CAMO, JOHN CHRISTOPHER ALCAZAR
48 CANTOS, KATRINE FAE FERNANDEZ
49 CAPULONG, FRANCIS RENZ TORRES
50 CAROLINO, LEOMAR CASTA
Roll of Successful Examinees in the
C. P. A. LICENSURE EXAMINATION
Held on DECEMBER 16, 2021 & FF. DAYS
Released on DECEMBER 29, 2021
Seq. No. N a m e
51 CASBALLEDO, DALRYMPLE RAMOS
52 CASTILLO, ABEGAIL SIBAYAN
53 CASTILLO, RHAE-MELYN ANDUMANG
54 CASUCO, STAR SERAFIN CANCAIDA
55 CATE, VIEN MARCO NAVARETTE
56 CELEZ, MARK KEVIN ALILIS
57 CHIONG, SEDRICK LLOYD CHUA
58 CHUA, JOHN STEVEN YAO
59 CHUA, RIEL CIDNEY UY
60 CLARO, PRINCE FLORENZ PHILIP COLOMA
61 CLEDORO, ROMIL YBAÑEZ
62 CO, EYRIEL MAE SO
63 COLOMA, REGINA KRIEZEL MAE ALIBUYOG
64 CORDERO, JOANA MAIDY CRUZ
65 CORDERO SY, ANDRE JOSHUA GO TIONG
66 COTOCO, LLOYD RUSSELL RIVERA
67 CRUZ, AIRA NICOLE RAMOS
68 CRUZ, JOANNE MARIE YUMUL
69 CRUZ, ROMMEL TALAMPAS
70 CUARESMA, STEPHANIE CLAIRE GONONG
71 CUENCO, DENZELL DE RAMOS
72 CUPIN, EDUARDO ACUT
73 CURUTAN, CEAZAR JONES BALLESTEROS
74 CUSTODIO, JORREL ARCY NIEMES
75 DAGASDAS, RACQUEL JADULANG
76 DAGURO, KIM CLAIRE LOPEZ
77 DANO, LAUREANA MARIE MEGUINES
78 DAVIS, VANESSA ANNE ACUÑA
79 DAYRIT, MELVIN DOLORITO
80 DE CASTRO, AGATHA FAIGAL
81 DE CASTRO, LEONIDES CRISPINO DAOS
82 DE GUZMAN, ADRIAN FRANCIS ANDALLO
83 DE GUZMAN, LEONARDO MALLARI
84 DE JESUS, JOSHUA AUSTRIA
85 DE LA ROSA, ANGELICA ABERIN
86 DEL ROSARIO, JOSE LEO RAPHAELLO POLISON
87 DELA CRUZ, JAMAICA MAY ESPINOZA
88 DELA PAZ, ALBERT GONZALES
89 DELA PEÑA, DANIELLA FELIPE
90 DHANWANI, NIÑA JOY RAMA
91 DIMACULANGAN, DIANNE SOLEI ALON
92 DIMALALUAN, ADRIAN NUEZ
93 DIONISIO, GABRIEL PARROCHA
94 DIZON, MARIA ELENA PATRICIA SANTOS
95 DIZON, PATRICIA ISABEL YAMBAO
96 DOMINGO, JUAN PAULO MIGUEL DELA CRUZ
97 DOSAL, KARL NAIGAN
98 DUMAGUING, DIANA DELA CRUZ
99 DUMARAOS, KRISTINE LIMBO
100 EDAN, ANDREA MAE
Roll of Successful Examinees in the
C. P. A. LICENSURE EXAMINATION
Held on DECEMBER 16, 2021 & FF. DAYS
Released on DECEMBER 29, 2021
Seq. No. N a m e
101 ELLI, CHRISTIAN REY ALDABA
102 EMLANO, JANA MARIE PADUADA
103 ENDAYA, RONA ATHENA VERONICA ARAGON
104 ERNO, IRENE KATE BECILLOTE
105 ESMAIL, MOHAMMAD NAIM DIRANGARUN
106 ESPIRITU, ROXANNE JHOI LA MADRID
107 ESTEFANIO, CARLO PERALTA
108 EUSEBIO, PATRICIA DANIELLE PAALISBO
109 FADRIQUELA, HANA FONTECILLA
110 FALTADO, CHRISTINE MAE REÑA
111 FEBRADA, MIKE OLIVER
112 FERNANDEZ, CLARISSE ANGELA TOLENTINO
113 FERNANDEZ, JETHOVIE ANDREI FLORENDO
114 FERNANDEZ, YSABELLE HEYRES
115 FIGUEROA, CARLA KATRINA VILLAFUERTE
116 FLORA, JUSTIN JOHN LABBUANAN
117 FONG, JACLYN MARTINEZ
118 FORMOSO, NIKKO BUENAOBRA
119 FRANCISCO, IRA OCAMPO
120 FRANCISCO, JAMAIZA LYNNE CRUZ
121 FRANCISCO, JANINE ERMINA
122 FRONDOZA, KENT EHIMPLAR
123 GAJELAN, JERIC ALBURO
124 GALICIA, ROCHELLE DEL CASTILLO
125 GALSIM, JUAN CARLO FIDEL
126 GAMMAG, ROSSEL PEREGIL
127 GAN, MARC ALLEN ANTHONY ABAYA
128 GANGARAM, DEEPA RAPER
129 GAPATE, JOHN CLIFFORD GREGORIO
130 GARCIA, GIAN QUEZIA LYNN ELNAS
131 GARCIA, SOPHIA CASSANDRA OLAN
132 GERON, JOAN MARIE TORINO
133 GERONIMO, ANGEL JOHN FUA
134 GERONIMO, CHRISTIAN BARTOLOME
135 GO, JUSTINE BARON CHUA
136 GONZALES, RIO MEL BERNARDO
137 GOZUM, SONNY ROBERT MONTEROLA
138 GRAFIL, GEORGIE ARCITA ANOC
139 GRAFIL, PATRICIA STEFFI SACLAO
140 GRATUITO, GELEEN OCHAVE
141 GRAVA, FRENCH CAGUIL
142 GRUCO, JINGKEE ROSE DELIMA
143 GUANZON, GEORGE RYAN RODRIGUEZ
144 GUERRERO, CLOIE AIRICE BOLIVAR
145 GUEVARRA, JOHN PAUL GERONA
146 GUPO, JOHN MARTY BALAGTAS
147 HERMONES, JENIE PEE ALLONA
148 HERNANDEZ, ANNAGAIL DENISE PEREZ
149 HERNANDEZ, JEJOMAR CETRON
150 HERNANDEZ, PATRICIA MEI CRUZ
Roll of Successful Examinees in the
C. P. A. LICENSURE EXAMINATION
Held on DECEMBER 16, 2021 & FF. DAYS
Released on DECEMBER 29, 2021
Seq. No. N a m e
151 HIDALGO, AARON JOSHUA ABAD
152 HIZON, PATRICIA FAYE LLARINAS
153 IGNACIO, MARK ALBERT CALANSANAN
154 INSIGNE, JESSMAR GATCHALIAN
155 JOSON, JADE ALEXIS OLIVA
156 JOVENES, CHRISTIAN FABIA
157 JUAN, MARIEL YUMANG
158 JUNIO, LOUIE JAY ELINON
159 JUSTO, MARK JOSEPH MIGUEL
160 LABANG, BRENT JOSEPH ALARCON
161 LACONSAY, ALJON YU
162 LAPUZ, CARL JAY ABESAMIS
163 LARUAN, HAROLD BALISI
164 LAYAG, KATHERINE ROSTRATA
165 LERIO, RONIL FERRER
166 LIM, JOSIEFANNIE FUENTEBLANCA
167 LIM, KIARA NICOLE GOZE
168 LIROM, JHUMAR SARVIDA
169 LIU, KIMBERLI IAM BERNARDO
170 LONTOK, PATRICK LORENZO MERCADO
171 LORENZO, CHRISTIAN JOY REYES
172 LUNARIO, MYRRIEL BUÑAG
173 MACEDA, VINCENT KARL GENTILES
174 MADRID, CRISTALYN JOY MERU
175 MALLANAO, JOHN LAWRENCE EUSEBIO
176 MALLARI, FIA NARISE VILLAFUERTE
177 MALLARI, MARIE NELLY ANGELES
178 MANAGUIT, MERRY GRACE PATRICIO
179 MANCILLA, CRIS DANIEL MANZANO
180 MANEJA, JASHRAH CLARE RESUELLO
181 MANGUIAT, ELJHON TUIZA
182 MANIBA, JOHN BART ARMENDARES
183 MANLUGON, KRIZEN ANN SANCHEZ
184 MANUCOM, KLARISSA ANNE NARCISO
185 MARALIT, JUSTINE ALLYSSA ANOC
186 MARCIANO, JAM LOUISE BERNARDO
187 MARIÑAS, DANICA MAE
188 MARQUEZ, MARK LESTER KAW
189 MARTIN, KRIZZA MAE PADILLA
190 MATAS, VANESA MAEY CALIWAN
191 MATEO, KHRISTINE CLAIRE UMALIN
192 MEDRANO, ROXELLE MARIE FRANCIA
193 MEJIA, MARC VINCENT LOPEZ
194 MELO, KATHLEEN ANNE LATAG
195 MENDOZA, CHLOE BIANCA BARCELA
196 MENDOZA, FRANCIS PANIZAL
197 MERCADO, LAMBERTO III TORRALBA
198 MERCADO, ROBERTO DANIEL TORRALBA
199 MERON, EMMANUEL ABAYON
200 MILAN, IVAN FRANCO CABRAL
Roll of Successful Examinees in the
C. P. A. LICENSURE EXAMINATION
Held on DECEMBER 16, 2021 & FF. DAYS
Released on DECEMBER 29, 2021
Seq. No. N a m e
201 MILLANO, DAN ANDREW PENDOS
202 MINANDANG, NAJMAH BANSAO
203 MIRANDA, MARIA CARLA CASUMPANG
204 MIRANDA, MAXIMINA EMELIE II MILLANAR
205 MOPAN, GEORGIA WAI CERVANTES
206 MORCOZO, ROBIN HERCO
207 MOSLEM, MUHAMMAD HARRIS MADID
208 MOTAS, LAIKA JEAN MICO
209 NAA, KATRINA JOY CLARIZA
210 NACAR, DIANNE CO
211 NAGUIAT, CHRISTINE ROSE AQUINO
212 NICOLAS, CARLO AZOR
213 NICOLAS, CLARISSE LEGASPI
214 NUEVO, CHARMAINE ESTABILLO
215 NUQUI, CALVIN DAVE GONZALES
216 OBINA, BRYAN SACE
217 OCAMPO, LARA PATRICIA CRESPO
218 ONG, COURTNEY TAN
219 ORTALIZ, JAY CEE MALLARI
220 PAJARO, EDRIK ALLAN ARSENAL
221 PALAY, CHARLIEMAGNE BUDAY
222 PANAGUITON, CLAUDINE RODRIGUEZ
223 PANGANIBAN, ALDRIN LONGALONG
224 PAPA, TRISTAN DRANEL MABUTI
225 PARAFINA, LEZLIE ANN LABOREDA
226 PARREÑO, CHRISTIAN ANGELO GABBUAT
227 PASCUA, BEA DANE CASTRO
228 PATRICIO, NOJ MC JUSTINE RESTOR
229 PEDRO, LEA ANGELA MENDEGORIN
230 PERALTA, JOSE RICARDO OLIVAS
231 PERLAS, BRYAN JUSTINE RADO
232 PERNIA, LOURDES YAZMIN LABAO
233 PETALCORIN, ANTHONY MARK DEHILLO
234 PINEDA, JURELL MATTHEW AYUNGON
235 PLACENTE, AD RYAN LUBUGUIN
236 POLON, KIM BERNADETTE LOPEZ
237 PONDEVIDA, VENJOVI BASSIG
238 PORTUGAL, MA CECILIA PATALAY
239 POZON, ISABELLE LOUISE DAVID
240 PUA, REINA GRACIA LABAGNOY
241 PULMONES, PEARL JOYCE BESA
242 PUOD, MARK ANGELO DELOS REYES
243 QUA, CRISTINA JESSICA UY
244 QUIÑONES, DANIELLE CRUZ
245 RAMIREZ, CIALAINA LEIGH ORTEGA
246 RAMIREZ, MA AUREA TELLES
247 RAÑOLA, DEXTER JOSHUA TRINIDAD
248 REGALA, RENIER SUAREZ
249 REGASPE, PAULYNE SANVICTORES
250 RESERVA, MA BEATRIZ MIRZI RIVERA
Roll of Successful Examinees in the
C. P. A. LICENSURE EXAMINATION
Held on DECEMBER 16, 2021 & FF. DAYS
Released on DECEMBER 29, 2021
Seq. No. N a m e
251 REYES, LALAINE MAIGUE
252 RONQUILLO, JAMES ARVIN ESTRADA
253 ROSANA, KRYSTAL VAN NICOLE PASTRANA
254 ROÑO, MARIEL ANNE AGUILAR
255 RUFINO, PATRICK JAMES RAMIREZ
256 SABEQUIL, DHARYLL PADILLA
257 SABORDO, ELLY TABORNAL
258 SALAZAR, ARIADNE MARIELLE FORIL
259 SALAZAR, MARIA ALEXIS ARRIOLA
260 SALINAS, RYAN MIGUEL CABANGON
261 SALOMON, DANIELLE GUILLERMO
262 SALVADOR, ANGELICA REYES
263 SALVADOR, IREGYSON ANTONIO
264 SALVADOR, JURICE FABITO
265 SAMORANOS, PAULINE MARIE MENDOZA
266 SAMSON, ARJULES CHRISTIAN VALDEZ
267 SAN MATEO, MARIELLA MAE ESTRELLA
268 SANIEL, EMMANUEL MIRA
269 SANTIANO, ANDREA ROSE HILARIO
270 SANTOS, DEANNE OLARTE
271 SANTOS, JOHN ALRICK GATPOLINTAN
272 SANTOS, JONAH CLAIRE DAVID
273 SANTOS, MICHAEL ANGELO DE VERA
274 SAYCON, CLARK CAESAR
275 SEDON, MARNIE SARIO
276 SEE, NICKSIE SAMANTHA MEJIA
277 SILLA, SHAIRA LYN MARAMARA
278 SILVA, ANDREA CORINNE TOBILLA
279 SIMPELO, JHIE ANNE MONDAY
280 SIONGCO, MARCO JOSE FRIAL
281 SISON, JERILYN PUNZAL
282 SISON, KEN
283 SOGUE, QUEENIE CHAISE SANTOS
284 STA ANA, JANINE IRA PALACIO
285 SUBIDO, MARK ACE CASTELO
286 SUERO, CHERRYSSE BERNADETTE SUÑGA
287 TADEO, ALFIE MARAVILLA
288 TAGALA, CEDRIC LEGASPI
289 TALLENA, MICHAEL KENT SOBREDO
290 TAMBONG, NORLYN POLARON
291 TANDOC, HANNAH WHRAXELLE DE DIOS
292 TANDOC, JOHN CARLOS JIMENEZ
293 TANTOY, KLOUDETTE JOY
294 TEE, ALBRIGHT LEBEN SALES
295 TENORIO, MARRIELLA GONZALES
296 TIU, JONATHAN MICHAEL TAN
297 TOGLE, JUSTLEE LAYNO
298 TOLENTINO, JERALDINE CIDRO
299 TOROBA, WILLIAM ANDREI RAMON
300 TORRES, JOEMAR SANTOS
Roll of Successful Examinees in the
C. P. A. LICENSURE EXAMINATION
Held on DECEMBER 16, 2021 & FF. DAYS
Released on DECEMBER 29, 2021
Seq. No. N a m e
301 TORRES, VERONICA MONIQUE DEL MUNDO
302 TRIPON, ANGELO FERRER
303 UNGSOD, JUAN MIGUEL SANTOS
304 UNO, MARYANNE PATRICIA PASUMBAL
305 URBANO, AIMEE AZURIN
306 URREA, CHRISTINE JOYCE AGACETA
307 VALDEZ, ARNEL JR PANAHON
308 VELASCO, KLARRISE DE LARA
309 VILLAMOR, JOY ANTHONETTE SORIANO
310 VILLANO, JEMUEL TEODORO
311 VILLANUEVA, EZRA ELYDAN LAPID
312 VILLEGAS, JOSHUA MARTE
313 VINLUAN, WINSTON TABAMO
314 WONG, CATHERINE JOYCE TEKSO
315 YASUL, VINCI VIC SION
316 YSAAC, PAUL FRANCIS BELALE
317 ZAPATA, DANIEL GABRIEL VASQUEZ
318 ZAPIRAIN, JOYCE ANN HERA
NOTHING FOLLOWS———————-
EXAM COVERAGE
Auditing
Management Advisory Services
Taxation
Regulatory Framework for Business Transactions
Financial Accounting and Reporting
Advanced Financial Accounting and Reporting
RELEASE DATE
PRC is expected to release the exam result within 3 working days after the last day of the examination.
REMINDER
The exam result may be released by the PRC earlier or later than the target date without prior notice.
REQUIREMENTS
Notice of Admission
Duly accomplished Oath Form
2 pieces of passport-sized ID photos in white background and with complete name tag
2 sets of documentary stamp
1 piece short brown envelope
Aspiring accountants can visit the official website of the Professional Regulation Commission and use the verification page for the results of the board examination passing rate.
Examinees will be required to provide their full name, birthdate, application number, exam name, and date of examination.