Here is the Nursing NLE Board Exam Result November 2021 Full List of Passers
NLE RESULT 2021 — This is the Nursing Board Exam Result November 2021 list of passers (M-R) as released by the Professional Regulation Commission (PRC).
The exam result including the list of passers, top 10 passers, top performing and performance of schools, and other announcements related to this will be posted on this website once PRC will release it.
PRC conducted the Nursing Licensure Examination on November 21-22, 2021 at testing centers in Metro Manila, Baguio, Cagayan de Oro, Cebu, Davao, Iloilo, Koronadal, Legaspi, Lucena, Pagadian, Pampanga, Rosales, Tacloban, Tuguegarao, and Zamboanga.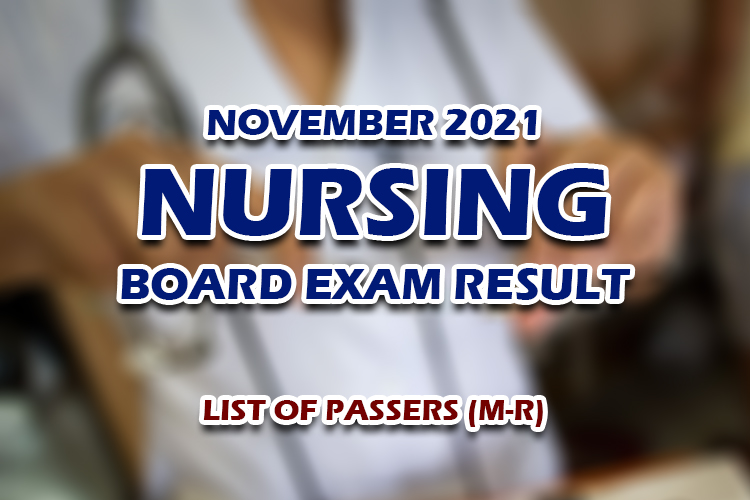 PRC Board of Nursing Chairman Elsie A. Tee and members Carmelita C. Divinagracia, Merle L. Salvani, Zenaida C. Gagno, Carfredda P. Dumlao, Marylou B. Ong, and Elizabeth C. Lagrito administered the board examination.
SUMMARY OF RESULTS
Here is the list of passers:
Updating …
EXAM COVERAGE:
Anatomy and Physiology
Pathophysiology
Pharmacology and Therapeutics
Nutrition and Diet Therapy
Parasitology and Microbiology
Patient Care Competencies

Safe and Quality Nursing Care
Communication
Collaboration and Teamwork
Health Education

Empowering Competencies

Legal Responsibilities
Ethico-Moral-Spiritual Responsibilities
Personal and Professional Development

Enabling Competencies

Management of Resources and Environment
Records Management

Enhancing Competencies

Research
Quality Improvement
RELEASE DATE
PRC is expected to release the exam result within 9-16 working days after the last day of the examination.
REMINDER
The exam result may be released by the PRC earlier or later than the target date without prior notice.