Javi Benitez announced that he's running for mayor of Victorias City in the 2022 elections.
Sue Ramirez's boyfriend Javier "Javi" Lopez Benitez officially announced that he's running for mayor of Victorias City in the 2022 elections.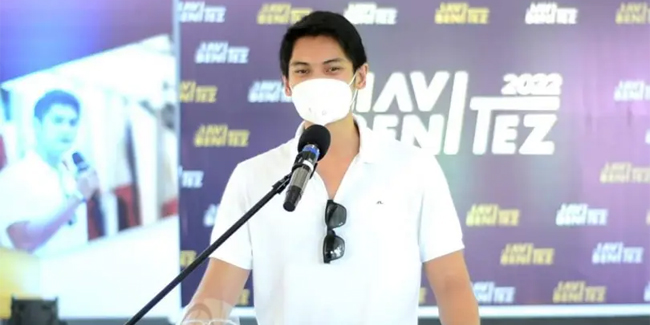 In a press conference last September 21, Javi pledged that should he be elected mayor his administration will be clean, efficient, and inclusive. According to him, those words encapsulated how they felt the government should be.
Javi also promised a government that will ensure transparency and accountability, and openness and innovation.
"We will be a government that won't be reactive but proactive…A government that puts public consultation as a top priority and a government that is for all," Javi said, adding that he'll be available to Victoriahanons 24/7.
According to a report on Digicast Negros, Javi said that his running mate will be Abelardo "JunB" Bantug III and it's a party decision to nominate him for mayor of Victorias City "because I know they believe that I am capable of handling all the responsibilities given to me".
Responding to some accusations that his family was building a political dynasty in Negros Occidental, Javi said that he believed they have the heart to serve the people and they weren't forcing anyone to vote for us, but what the public can expect from their family was "good governance and the people as the utmost priority".
Benitez also said what he and his father, who was running for mayor of Bacolod City, offered to the table will be for the benefit of the people. He added that he felt that his diverse experiences and exposure were what made him confident that he can handle the upcoming task.
READ ALSO: Celebrities React on Sue Ramirez and Javi Benitez Romantic Photos
Javi was the son of former Rep. Alfredo Abelardo "Albee" Benitez and the nephew of Rep. Francisco Benitez (Negros Occidental, 3rd District).
Meanwhile, Javi's girlfriend Sue Ramirez said that her boyfriend enjoyed what he's doing and loved Victorias very much.
"Just be yourself because you are enough, you are smart, you are going to be a good leader, I'm sure of that. We are just here supporting you all the way," Sue said to Javi.
Javi's mother Dominique Lopez Benitez said that her wish for him was to "continue to be humble, pray, and be available always to Victoriahanons".
Prior to this, PNV Media reported last April that its source said that Javi made an announcement in front of leaders at the family's vacation house. At that time, Javi didn't officially confirm to PNV Media if he's running as mayor of Victorias City.
For more news and updates, you may feel free to visit this site more often. You may also visit Newspapers.ph via our official Facebook page and YouTube channel.