Statement of Angel Locsin over her 94-Year-Old Dad
ANGEL LOCSIN – The Kapamilya actress expressed her gratitude over the prayers extended by netizens for the recovery of her 94-year-old father.
The common enemy of a lot of countries now is the COVID-19 pandemic. This virus has placed the lives of millions of people across the globe at risk. Sadly, many people even lost their lives to the disease.
In the Philippines, COVID-19 continues to put lives at risk. Many celebrities from different fields contracted the disease and could attest to the tough fight that the virus lodged for some people.
There are also celebrities whose loved ones have been infected by coronavirus. One of them is Kapamilya actress Angel Locsin.
A few days ago, Angel revealed that her father, Angelo Colmenares, tested positive for COVID-19. He is currently 94 years old.
The father of the actress was brought to the hospital. In another social media post before she deleted her post about her dad, she revealed that 10 members of their family from different houses contracted COVID-19.
Based on a screenshot of ABS-CBN News, Angel Locsin expressed her gratitude to everyone who prayed for her father. She also informed the public that she will take down her post about her father's condition as it is something that she does not want to remember.
According to the actress, she just needed to "airout" yesterday so she posted about it. She thanked everyone "for being a ray of sunshine" to her and her family.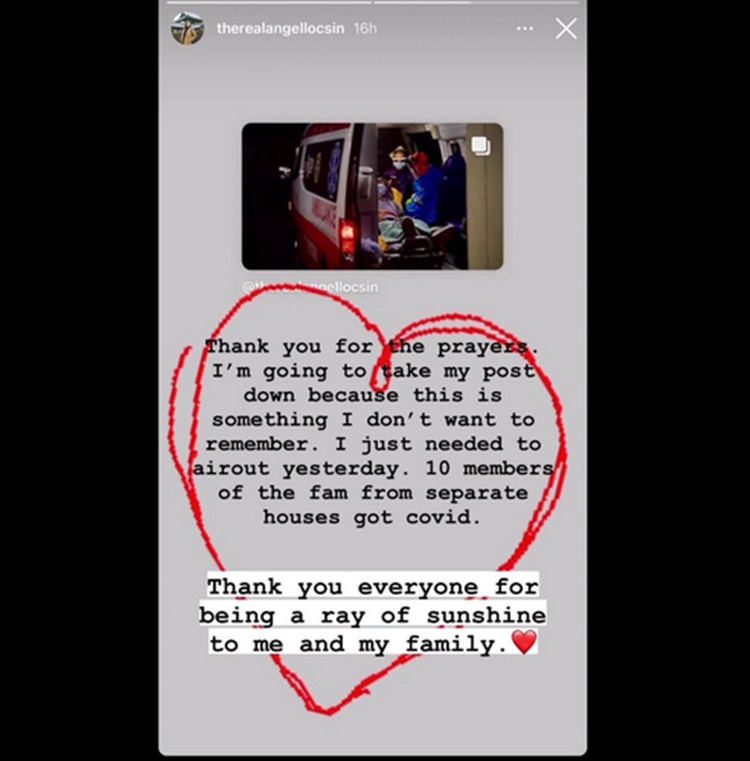 Amid the challenging times now, the actress is still on point on encouraging her followers not to lose hope regardless of what is happening now. She also encourages everyone who fights the battle alone to hold on as "this, too, shall pass".
Many people lost their lives to COVID-19. Everyone is reminded to continue practicing the health protocols and to be extra careful.
You may also visit – Angel Locsin, Neil Arce Speak About Dimples Romana's Crying Moment