Apple started promoting Olivia Rodrigo's latest music video as it was "Made on iPad".
After teaming up with Olivia Rodrigo to encourage iPad creativity on TikTok, Apple started promoting Olivia Rodrigo's "Brutal" music video as it was "Made on iPad".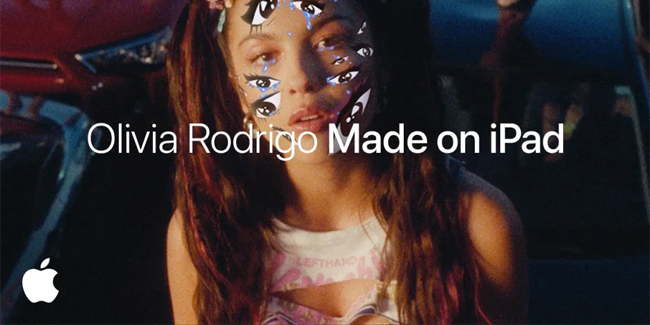 Earlier this month, Apple partnered with Olivia Rodrigo to promote her new song "Brutal" with different digital masks created on the iPad with Procreate and Apple Pencil.
Now that Olivia Rodrigo's "Brutal" music video was available, Apple made a short clip highlighting that the said video was "Made with iPad".
Apple's 38-second clip shared on its official YouTube channel showed parts of the "Brutal" video clip by Olivia Rodrigo, who appeared "wearing" the digital #Brutalmasks created on the iPad.
The said video also showed brief moments of how the #Brutalmasks were drawn using the Procreate app.
To recall, Apple's campaign with Olivia Rodrigo urged fans to create their own #BrutalMasks to share on TikTok.
The said campaign featured Procreate's new "FacePaint" feature which enabled users to create and record illustrations that appeared on a person's face in real time.
READ ALSO: Apple and Olivia Rodrigo Join Forces To Encourage iPad Creativity On TikTok
This wasn't the first time that Apple has teamed up with artists in order to promote its products. Selena Gomez released the music video for her song "Lose You To Love Me" shot entirely with the iPhone 11 Pro last 2019.
Lady Gaga also shot the music video for "Stupid Love" last 2020 using the iPhone 11 Pro.
Meanwhile, Apple and Billie Eilish teamed up to promote Spatial Audio on Apple Music. Billie shared a new video on her YouTube channel inviting her supporters to listen to her new album on Apple's platform.
For more news and updates, you may feel free to visit this site more often. You may also visit Newspapers.ph via our official Facebook page and YouTube channel.