Here is the X-Ray Technologist Board Exam Result May 2021 List of Passers
This is the X-Ray Technologist Board Exam Result May 2021 list of passers as released by the Professional Regulation Commission (PRC).
The exam result including the list of passers, top 10 examinees, top performing schools, and other announcements related to this will be available on this website as soon as the PRC will officially release the results.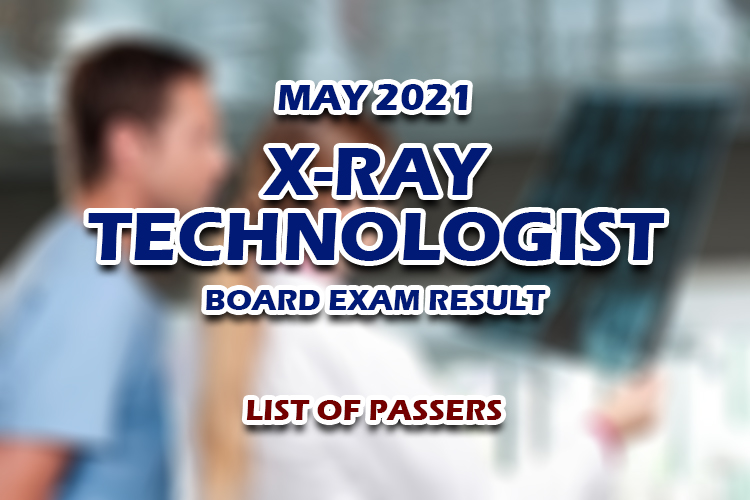 PRC held the licensure examination at PRC testing centers in Metro Manila, Baguio, Cagayan de Oro, Cebu, Davao, Iloilo, Legaspi, Lucena, Rosales, Tacloban, and Tuguegarao.
Officer-In-Charge, Mr. Reynaldo Apolonio S. Tisado and its members, Dr. Orestes P. Monzon, Mr. Bayani C. San Juan, and Ms. Ma. Jesette B. Canales of PRC Board of Radiologic Technology headed the board examination.
SUMMARY OF RESULTS
Here is the list of passers:
Roll of Successful Examinees in the
X-RAY TECHNOLOGIST LICENSURE EXAMINATION
Held on MAY 16 & 17, 2021
Released on MAY 24, 2021
Seq. No. N a m e
1 ALEGADO, ALEX KYLE BORROMEO
2 ALINSULORIN, MARK JIM SIVA
3 BASIAG, MAYSHELL BALILING
4 BATUAMPAR, AL-AMEN LOMIBAO
5 BAUTISTA, KING RANGER PAUL TUDLONG
6 ENCARNACION, CHRIST JOHN ANICETO
7 GONZALES, JHON PAULO ESMABE
8 KUNNANG, MERHANA HADDARI
9 LOBO, KAYE MONTECINO
10 MADAHAN, KHRYSS ALVINCH RICK EBUS
11 MANSUL, SCHERMEEN WAHI
12 MOSCOSO, HERMIN JANE SONGCAYAWON
13 MURIM, MUHD SHAMIME-RAZA TULAWIE
14 NECIDA, RHONEIL-JO IGNACIO
15 NUQUE, JAIME NICOLE BALBA
16 REYNOSO, ZOILO III MAGTUNAO
17 SALAZAR, MARIO JR CAPISTRANO
18 SALVADOR, ANGEL GALVO
19 SANTOS, ANGELITO SOMBILLO
20 SOLEDAD, JAY ALLEN GUTIERREZ
21 TOMOLING, RHIM ASIL
NOTHING FOLLOWS———————-
RELEASE DATE
PRC is expected to release the X-Ray Technologist licensure examination result within three (3) to five (5) working days after the last day of examination or from May 20-24, 2021.
REMINDER
The exam result may be released by the PRC earlier or later than the target date without prior notice.
For other exam results, you can visit this link.