Dog Digs Himself Out Of Grave After Being Injected With Lethal Chemicals
DOG DIGS HIMSELF OUT OF GRAVE – Dogs are considered as man's best friend. However, there will always be cases where humans can be a dog's worst nightmare.
Kiryusha, a seven-year-old German Shepherd, miraculously survived a grim fate. Not only did he get buried alive, his owners also gave him a lethal injection before doing so.
However, despite all of this, Kiryusha managed to dig himself out of his own grave and looked for help. Luckily, a kind individual was driving past a highway where Kiryusha was walking half-dead in the rain.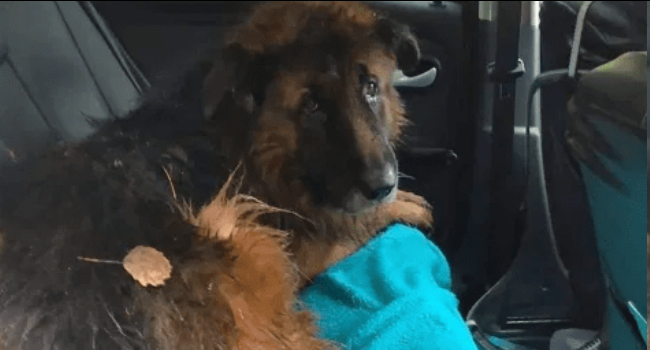 Initially, the woman who saw the dog kept going forward. But, after traveling nine miles away, she went back to save the poor soul. Since then, Olga, the person who rescued the dog, said she made the best decision of her life.
According to an article from Paws Planet, Olga said she saw the dog wet and exhausted on the roadside. Afterward, she offered him food and let her sleep on at the backseat.
Following this, she immediately brought him to a dog rescue service in Ukhta, Northern Russia. When the dog was on its way to recovery, they posted his photo online in an attempt to find its owner.
After a short period, they found the owners and admitted that they thought the dog was "unhealthy". However, that wasn't the only thing they said.
According to an article from Paws Planet, the couple intentionally injected him with a lethal drug in an attempt to kill him. Afterward, they buried him in a remote area near the Ukhta Siktifkar Highway.
But, the vets said the dog didn't have any illnesses or issues but hunger. As per the article, the couple claimed to bury him due to a "mistake" and apologized.
Fortunately, Kiryusha has been adopted by a new family and is living happily.
READ ALSO: LAPD: Lady Gaga's French Bulldogs Safely Returned