Business groups in the Philippines were optimistic about economic recovery following the arrival of Sinovac COVID-19 vaccines.
The arrival of the first batch of Sinovac COVID-19 vaccines was expected to trigger public confidence and was expected to spur economic recovery, according to business groups in the Philippines — Makati Business Club, Management Association of the Philippines, and Financial Executives Institute of the Philippines.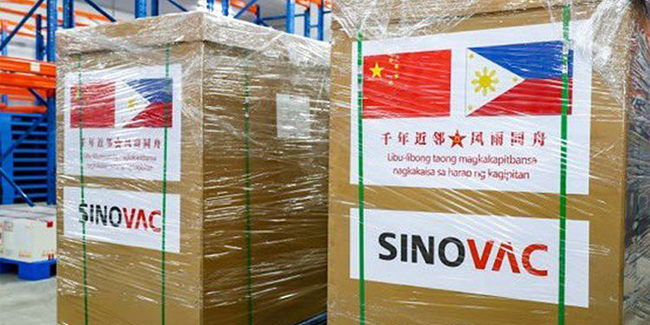 Executives from the said business groups shared the same sentiments, saying that jump-starting mass inoculation against COVID-19 would equip the country to further pursue and fuel its economic recovery plan.
In a statement, FINEX President Francisco Ed Lim said that they fervently hoped that this was the start of a continuous flow of sufficient COVID-19 vaccines into the Philippines as vaccinating as many people as possible at the soonest possible time would significantly boost consumer confidence and accelerate their economic recovery.
MBC Executive Director Coco Alcuaz said in a mobile message that "tens of millions" of Filipinos had to be vaccinated "before confidence is substantially restored".
Alcuaz also said that they supported efforts to inoculate as many frontliners "as quickly as possible".
READ ALSO | Health Expert: Use Of Different Types Of COVID-19 Vaccine Discouraged Pending Studies
MAP National Issues Committee Chairperson Rizalina Mantaring told CNN Philippines that the economy "has been devastated" since the Philippine government had been implementing lockdowns and limiting Filipinos' movement in order to lessen the spread of the coronavirus disease.
Domestic consumption, Mantaring noted, comprised 70% of the local economy.
"Vaccination will boost confidence and help allow us to reopen fully — the faster we are able to vaccinate, the faster we will be able to reopen and the faster our pace of recovery will be," Mantaring said in a mobile message.
The Philippine government on Sunday received the first shipment of 600,000 CoronaVac COVID-19 vaccines from China's Sinovac Biotech.
For this year, the Philippine government was targeting to procure 148 million COVID-19 vaccine doses in order to vaccinate around 50 million Filipinos.
For more news and updates, you may feel free to visit this site more often. You may also visit Newspapers.ph via our official Facebook page and YouTube channel.