Here is the Sanitary Engineer Board Exam Result January 2021 Full List of Passers
This is the Sanitary Engineer Board Exam Result January 2021 full list of passers as released by the Professional Regulation Commission (PRC).
The official result including the list of passers, top 10 passers, top performing and performance of schools will be available on this website as soon as PRC releases it.
PRC held the examination in testing areas in PRC testing center in Manila on January 25, 26 & 27, 2021.
Chairman, Engr. Corazon De los Reyes-Romero and its members, Engr. Alfredo B. Espino and Engr. Florimond M. Lara of PRC Board of Sanitary Engineering headed the board examination.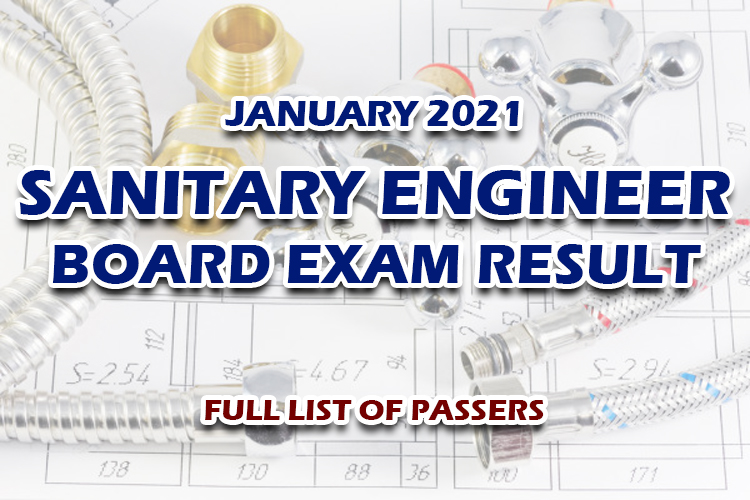 SUMMARY OF RESULTS
Here is the list of passers:
Roll of Successful Examinees in the
SANITARY ENGINEER LICENSURE EXAMINATION
Held on JANUARY 25, 2021 & FF. DAYS
Released on FEBRUARY 9, 2021
Seq. No. N a m e
1 ABRAJANO, KAYELA PAVA
2 ALBUERA, BHANJO ILAO
3 ALOG, RAEVIN JOSE
4 APALISOK, GABRIEL JUBAC
5 AQUINO, VINCE RENZO SYJONGTIAN
6 ASIS, ROSEMEDEL AREVALO
7 ASUNCION, ENRICO JOSE MASILUNGAN
8 BALAOING, LOREN CHLOE DENNA
9 BALDOZA, AINIE MANUEL
10 BANDOY, ALOYSIUS ANGELUS JOHN CACAO
11 BAYAS, MARK RHEYNEL BAWALAN
12 BRIONES, RICO TICATIC
13 BUMANGLAG, JOANNA MARIE FLORENTINO
14 CANTOR, JOSHUA MIGUEL AMBAY
15 CHAN, KHENNETT ESTRADA
16 CHOZAS, FRANCIS IVAN BRIONES
17 CLAUDIO, JOHN TERRENCE LIM
18 CORTEZ, PAUL HENDRIK CAMBRONERO
19 DASI, JESRAEL MAXION
20 DELA CRUZ, MARK JEMELSON RODILLAS
21 FERNANDEZ, ABNER PETER INGUENGAN
22 GODOY, RALPH LAUREN GARCIA
23 KATIGBAK, JERAMIE VALOIS
24 LABOS, AUGUSTO LUIS ALVAREZ
25 MABLAY, MARK ROLDAN KITAB
26 MIRANO, JULIUS LANCE MONTALBO
27 MORALES, ANGELO ADAPON
28 NAVARRO, ANDREA GLENN ALVAREZ
29 OLABE, RICHARD DANNIEL AURE
30 ONDONG, DONABELLE KIBITEN
31 ORQUIZA, RAMIL JR TONGCO
32 PACASE, MARK PAREN
33 PALMA, BRADT CAINE SIANGHIO
34 PANALIGAN, JEZA MASILANG
35 PERDON, PAULINE JOY DOMINGUEZ
36 PINEDA, STEPHANIE KIM ASA
37 PUNZALAN, JESSIE ANDREW ZUÑO
38 QUEVADA, ARA TABITHA AÑOSO
39 REGUYAL, JERALDINE JOSE
40 SELENCIO, RAINIER STEVEN ESTABILLO
41 SIANGHIO, JOHN KJELL OCAMPO
42 SIGNO, BRIANT LUIS MASIBAG
43 SOLIS, FAYE LORENZE LEYCANO
44 STA ANA, WINCY BAUTISTA
45 SUDARIA, SHERAMAY ABOGADO
46 TIU, BERNADETTE ANNE ASI
47 UBANTE, LOUIS CHRISTOPHER MALABANAN
48 YBAÑEZ, QUENNIE SAN PEDRO
NOTHING FOLLOWS———————-
Here is the list of Top 10 passers:
Updating …
Here is the list of Top performing schools:
RELEASE DATE
PRC is expected to release the Sanitary Engineer Board Exam Result within two working days after the last day of examination or on January 29, 2021.
REMINDER
The PRC may release the results earlier or later than the expected date without prior notice.