Rocco Nacino shared a story about his wedding with Melissa Gohing
Actor Rocco Nacino recently took to social media as he shared his sweet story about his wedding with now-wife Melissa Gohing.
This, as they tied the knot on a naval ship last January 21, 2021.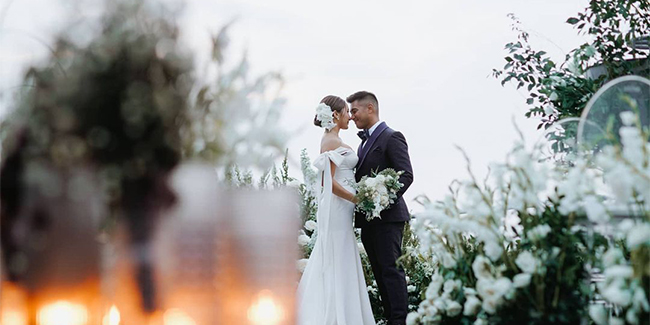 Citing a weather forecast, Rocco shared that there was a 90% chance of rain for the whole day of January 21, 2021.
Rocco said that worrying got the best of him and was stress eating again as he was thinking of his "plan B's" at that time — if he should buy more umbrellas, or even possibly rescheduling everything.
"But I learned that as you raise all your concerns to God, He will listen and surprise you. True enough, we were gifted with the beautiful sunset and weather we were dreaming for. Not one rain drop," Rocco said.
READ ALSO: Rocco Nacino and Melissa Gohing Are Now Married
Rocco then admitted that he easily snapped under stress and he's thankful for "this woman whom I now call my wife, who teaches me to see the positive side of every bad situation."
He also said that he's excited for the married life with his wife.
Melissa and Rocco tied the knot at a naval warship in Pier 13 in Manila City last January 21, 2021, and the wedding was held two months after they got engaged.
Meanwhile, Melissa shared a photo of herself walking down the aisle just to meet her now-husband.
In her Instagram post, she shared a photo of herself walking down the aisle and gave a close-up look at the bridal dress she's wearing. As seen in the caption on her post, her wedding gown was designed by renowned fashion designer Francis Libiran.
"The walk I've been waiting for my whole life for the man I've been praying for my whole life," Melissa said in her post.
For more news and updates, you may feel free to visit this site more often. You may also visit Newspapers.ph via official Facebook page and YouTube channel.