The CEO of Sinopharm distributor disowned an official in a radio interview
A chief executive of the sole local distributor of Sinopharm COVID-19 vaccine had disowned the individual who claimed to be a company official and who accused government officials of ignoring initiatives to make their COVID-19 vaccine available to Filipinos.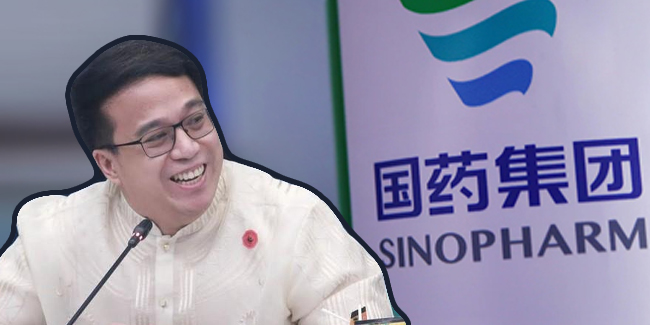 On Senate President Vicente Sotto III's questioning, Atty. Mark Kristopher Tolentino — the President and CEO of MKG Universal Drugs Trading Corporation — said that the person who made the allegations wasn't connected with the company.
Tolentino also apologized to Health Secretary Francisco Duque III and vaccine czar Secretary Carlito Galvez Jr., adding that he wasn't the person who made the allegations on the radio.
"That's not me, Mr. President. In fact, I have no knowledge about that information… I know that person but I'm not authorizing that person. Maybe he's talking on his own behalf, not on behalf of MKG. I would like to apologize to any government [official], especially Secretary [Carlito] Galvez, Secretary [Francisco] Duque, and those involved because it is not under my authority and the authority of the MKG," Tolentino said.
Pressed further if the said person who claimed to be an executive of MKG was indeed associated with the company, Tolentino answered that the said person wasn't connected to MKG.
Moreover, Tolentino said that MKG has no knowledge as to the alleged COVID-19 vaccine smuggling, adding that they categorically denied all the allegations because based on their record, they never imported nor distributed the Sinopharm COVID-19 vaccine to the Philippines yet.
READ ALSO: Sinopharm COVID-19 Vaccine "Too Expensive", "Very Problematic" — Galvez
Tolentino's response came after Eduardo Flojo — a person who claimed to be an executive of the distributor — on Thursday said that MKG officials would attend the Senate hearing in order to state facts as regards Sinopharm and the Philippine government's COVID-19 vaccine program.
According to Flojo, he was puzzled that Sinopharm wasn't being considered for vaccine procurement by Galvez.
For more news and updates, you may feel free to visit this site more often. You may also visit Newspapers.ph via official Facebook page and YouTube channel.