Viral video of a pilot who drew fist in the sky using his airplane to support George Floyd circulated online.
A certain pilot in Canada drew fist using his airplane as he wanted to show his support for George Floyd who died while in police custody.
This, as FlightAware tweeted a video on Thursday (Friday in the Philippines) showing the flight path of a pilot's airplane, C-GZPT, as he drew the fist at the Nova Scotia sky in Halifax, Canada for over two hours.
The said pilot was identified by CNN as Dimitri Neonakis.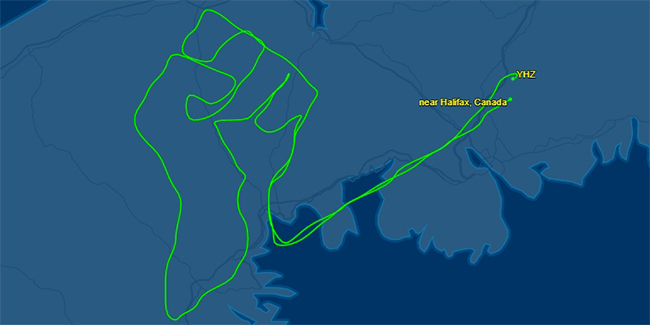 "My Way Is In The Air"
Dimitri Neonakis took to Nova Scotia sky in Halifax, Canada, on Thursday together with his message to George Floyd. In an interview with CNN, Neonakis said that he chose to draw the fist as it was a symbol of "movement against racism", adding that the public would have to "speak out" and have to "end it" as there were "no borders" when it comes to racism.
He then mapped out the image that he wanted to draw via an app and followed the line for the "fist" in his airplane. He revealed that it took him about two-and-a-half hours at 150 miles per hour (approximately 241 kilometers per hour) to complete the image that he wanted to draw in the sky.
And because his "fist" was done on a flight path, only radar can detect his "art".
HAPPENING NOW In the skies over Halifax, Canada. https://t.co/v3ZPufQyEs pic.twitter.com/qdn459NpUz

— FlightAware (@flightaware) June 4, 2020
Neonakis also said that he felt the need to speak out and his only way was "in the air", adding that it made him feel good even though no one was going to see his "art".
What can you say about this? Let us know!
For more news and updates, follow Philippine Newspaper on Facebook!