A netizen named "Juan" shared his statement on social media, addressing the actual scenario of the incident involving Grade 10 student who died in Bacolod City due to multiple stabbed wounds.
Following the stabbing incident in Bacolod City, a netizen posted his lengthy statement on social media, addressing the actual scenario of the incident.
This, after a netizen named "Juan", a student who helped the victim in transferring him to the hospital, posted photos of a Grade 10 student with blood marks on his Facebook account, which was taken down because the victim was a minor.
In a statement on Thursday evening, "Juan" said that the incident started when he and his friend heard someone who was shouting on the other side of restaurant. He then saw a victim and an unknown suspect with a knife in his hand, fighting at the streets near the restaurant.
According to him, people near the incident started panicking, not knowing what to do because according to him, the suspect was "hyper" and the suspect's knife was too sharp. He admitted that he even didn't know what to do at that time.
After a few minutes of fighting, the suspect went to the right side and the victim was near the restaurant, with stabbed marks and bloodstains in his body. He then volunteered to help the victim by transporting him inside the jeepney going to an ambulance in Sum-ag.
"Juan" added that a jeepney driver offered them an extra shirt in order to cover the victim's neck while going to an ambulance. According to him, the victim didn't want to assist him in going to the ambulance, yet "Juan" still guided him.
As they already reached the ambulance, nurses started to apply first aid to the victim before transporting to the hospital. According to the victim, he told "Juan" that he saw the suspect for the first time at the billiard hall, yet he didn't have any idea why the suspect did it to him.
As they reached the nearest hospital, the victim was then brought to the minor room of the said hospital. The victim handed over his phone to "Juan".
When the nurse asked about the identity of the victim, "Juan" got the ID from the victim's pocket because he even didn't know the victim's name either.
"Juan" addressed the public that they must know the whole story before making a conclusion, admitting that he got trauma because of the incident. He also admitted that he took photos, not because of fame, but because it was his way to seek assistance as well as he wanted the public to have an awareness in their environment.
After posting his statement, netizens thanked "Juan" for being a good samaritan to the victim.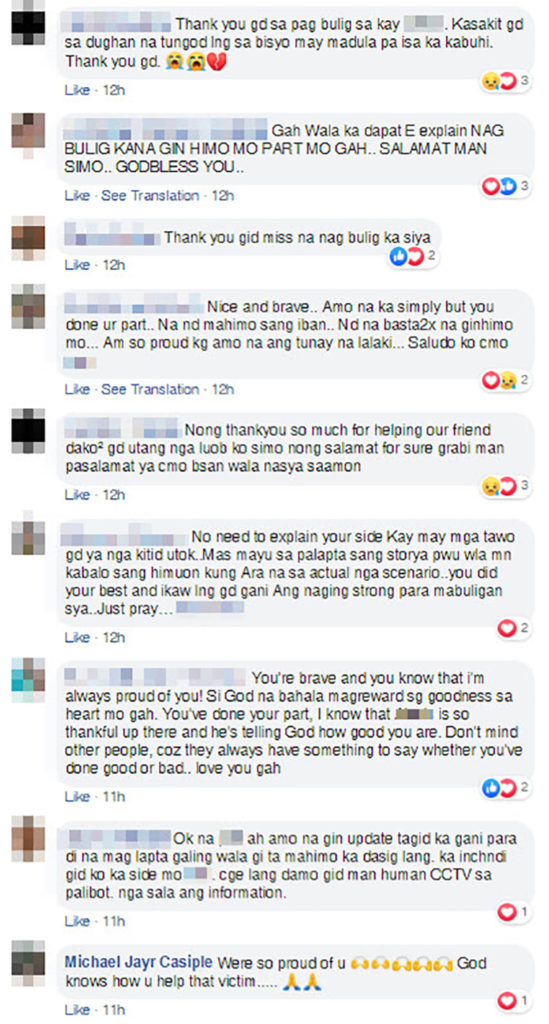 Stay tuned to Philippine Newspaper for more updates. For more news and updates, follow us on Facebook!